.


lew-KANTH-ih-mum — white flower
…
Dave's Botanary
x — hybrid … L. lacustre (Brot.) Samp. × L. maximum (Ramond) DC.
…
Wikipedia
soo-PER-bum — superb
…
Dave's Botanary
.
popularly known as
: Shasta daisy


.



Distribution
: only cultivated


.
---
Leucanthemum × superbum is a commonly grown flowering herbaceous perennial plant with the classic daisy appearance of white petals (ray florets) around a yellow disc, similar to the oxeye daisy Leucanthemum vulgare Lam but larger.
Formerly classified in the genus Chrysanthemum, these daisies were transferred to their own genus of Leucanthemum because they lack some traits of true Chrysanthemums. Shasta daisies are characterized by a distinct odor which some find unpleasant, which makes them unusual amongst flowers.
It originated as a hybrid produced in 1890 by the American horticulturist Luther Burbank, Leucanthemum lacustre (Brot.) Samp. × Leucanthemum maximum (Ramond) DC. It was named after Mount Shasta, because its petals were the color of the snow. Some members of the genus are considered noxious weeds, but the Shasta daisy remains a favorite garden plant and groundcover.
Many cultivars are suitable for cut flowers, such as 'Becky', 'Esther Read', 'Silver Princess', 'Snow Lady', 'Tinkerbell', 'Wirral Pride', 'Wirral Supreme'.
(From Wikipedia on 10.5.13)
.
Location: Nagarkot, Nepal
Date: 18 July 2018

Habit : Cultivated
---
---
Kindly help in differentiating between Leucanthemum maximum and Leucanthemum superbum. We have Leucanthemum vulgare as an obnoxious weed in H.P.
---
Link here for
Leucanthemum maximum
 says "The name Shasta daisy of horticulture is associated also with
Leucanthemum
×
superbum
(Bergmans ex J. Ingram) Bergmans ex D. H. Kent, which is generally thought to have been derived from hybrids between
L. maximum
and
L. lacustre
. Cultivars of "Shasta daisy" number in the dozens, including "single," "double," "quill," and "shaggy" forms; they may be encountered as waifs or persisting from abandoned plantings"
May be the following links are of some help:
---
Thank you, … Trying to differentiate between L. maximum and L. × superbum
---
I have some good photographs of these daisies with me. I'll post soon.
---
…, kindly see the page Leucanthemum × superbum.
Seen in the garden during my visit in October, 2018.
Only one single flower was in bloom
---
I think this is Leucanthemum superbum.  It's a widely grown garden perennial in Europe.
---
How to differentiate between Leucanthemum maximum and Leucanthemum superbum ?
---
I don't currently have access to my books due to our COVID lockdown but will check the European Garden Flora when I have access. Both taxa are similar and L. maximum is one of the parents of L. x superbum so there is a high degree of similarity. L. x superbum is very widely grown in Europe and North America while L. maximum is less widely grown. It could be either but the most likely is the garden hybrid.
---
It will be very nice, if you let me know, whenever you have access.
---
6 posts by 4 authors.
Requesting to please ID this plant captured in a cultivated garden in Ooty, Tamil Nadu in November 2013.
---
Not sure… could be Leucanthemum superbum, Shasta Daisy.
---
Leucanthemum x superbum (J.W.Ingram) D.H.Kent
---
---
please identify the flowering herb from Colon and Wetter, Germany.
---
Looks like one of the varieties of daisy (Bellis perennis).
---
Shasta daisy
---
Thank you for the images. It would help please is there were detailed images for the foliage. My best guess is what we call Shasta Daisy aka Leucanthemum × superbum, but I am not certain.
---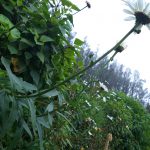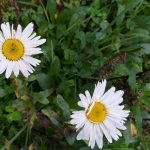 Compositae white head SN 21921
: 2 images.
White headed
wild compositae herb
near Doddabetta Ooty
---
Erigeron sp. could be E. peregrinus,
---
I think Erigeron peregrinus does not have distribution in India as per POWO.
Leucanthemum x superbum (J.W.Ingram) D.H.Kent ??
---
Yes, appears close to images at Leucanthemum x superbum
---