Vernacular names :
Tamil:
Vellai thovarai, Kalluviri, Pinari, kodalimuriki
Malayalam:
Bhoothakkali, Kalluveera, Peenari, Vellakkuyyan, Bhutha, Manalli
.
---
Trees, to 25 m high, bark pale green or grey with black streaks inside, covered with lenticels; blaze speckled with black and yellow; branchlets pubescent. Young foliage pink. Leaves simple, alternate; stipules lateral, elliptic-ovate; petiole 4-15 mm, slender, pubescent; lamina 6-12 x 2-6 cm, ovate, elliptic or elliptic-oblong, base round or acute, apex acuminate, margin entire, glabrous, coriaceous; 3-nerved from the base, prominent, intercostae scalariform, prominent. Flowers polygamous, yellow, in axillary puberulous cymes, usually on new shoots; male flowers usually at the basal part and female flowers on the upper side; tepals 5, 2 x 1 mm, ovate, concave, ciliate, membranous; stamens 5, free, inserted round a woolly torus; ovary superior, sessile, ovoid, 1 mm, 1-celled; style 8 mm long, pubescent. Fruit a drupe 7 x 5 mm, ovoid, smooth.
Flowering and fruiting: March-June
Dry deciduous and shola forests
Indo-Malesia to Australia and Tropical Africa
---
Please identify this plant details of which are as follows:
Location :alagarkoil forest 20 km n of madurai
Leaves :elliptic trinerved
Fruits : berry

Can it be
Celtis
sp
---
Sending a few more photographs. c and d are of a different but same type of tree.
---
Wild guess, Dendropthoe falcata, but I may be wrong
---
Thanks for the suggestion, … The entire tree was like this only. It did not look like an epiphyte.
I shall try to send a better photograph.
---
Resending this again for your valuable suggestions. Can it be related to Trema orientalis?. Attaching additional photo.
---
I have also spotted the same plant in E.ghats at Velugonda hills. It is a moderate sized tree, looks like celtis. but the flowers are different. attaching 2 images.
---
Thanks for taking this up again. Attaching further images of a different tree of the same type photographed today. No flowers today. Saw three or four specimens
in Alagarkoil, Periaaruvi valley
. Not uncommon in Alagarkoil.
… specimen seems to be having stipules, whereas the specimen from Alagarkoil does not show them. Please clarify.
I have received a private message that it could be
Celtis cinnamomea
. Your comments please.
---
The photo matches with Celtis philippensis. There are different varieties also.
---
Please convey my thanks to Kunhikannanji for the id. If it is C philippensis, which variety could it be? It doesn't seem to match with var. wightii nor with philippensis.
---
Have you closely observed the specimen, young foliage may be red; branchlets pubescent; leaves glabrous, coriaceous; 3-nerved from the base, intercostae scalariform, prominent.;flowers very minute; Fruit a
drupe 7 x 5 mm, ovoid, smooth, young fruits beaked, pubescent; for some time during the development of fruit they look like flowers because all floral parts remain fresh; there is every chance to be mislead as flowers; then it should be Celtis philippensis Bl. var. wightii (Planch.) Soep.
---
---
Kindly help to identify this tree. I suspect this as
Strychnos potatorum
of
Loganiaceae
;
common in river banks.
Place:
Scrub forests
of Satyamangalam, Eastern Ghats.

Date: 10 Dec 2009
---
Perhaps a species of Celtis!
---
Please find plant ID for link below:
Celtis philippensis Blanco

Leaf symmetric or weakly asymmetric, and margins seem to be entire.
In attached images
leaves are strictly alternate in zig-zag branches,
whereas in
Strychnos potatorum
 leave are always opposite.
Date
: 25 MAY 2013
… 
Altitude
:

about 580 m asl
¿ Celtis ?
Could this be some species of Celtis ?
These pictures may not be sufficient to get to ID of species; will be happy to get genus ID.
---
Celtis species in eFloraofindia (with details/ keys from published papers/ regional floras/ FRLHT/ FOI/ Biotik/ efloras/ books etc., where ever available)
---
It looks like Celtis only
---
I get a feeling this Celtis could be C. cinnamomea.
---
Please find the plant ID for link below:
Celtis philippensis Blanco

Leaf 
symmetric or weakly asymmetric, margins entire

.
---
Many thanks … for resurfacing this post with … diagnosis.
Thank you very much … for the better possible ID.
---
.
---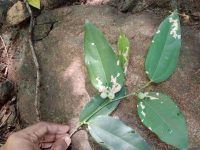 ID Kannur 14/7/22: 1 very high res. image.
Please identify this shrub from Kannur district of Kerala. Only fruits are available.
---
Celtis
---
Appears close to images at Celtis philippensis Blanco
---