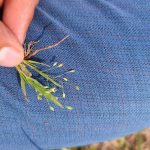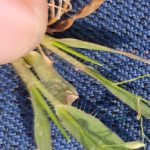 Wetland Grass species identification
: 2 images- 1 high res. image.
I have collected this
grass sp. From wetland
of Bayad, Aravalli, Gujarat. 
Please help me to identify.
---
Look like Urochloa species. Need more photos for confirmation.
---
I have collected this grass sp. From wetland of Bayad, Aravalli, Gujarat.
---
Panicum sp., probably wild Panicum miliaceum (cultivated forms are much different)
---
Panicum miliaceum
is larger grass whereas this plant are too tiny about 15-20cm height.
Panicle about 5-8cm long. Leaf blade is glabrous, only lower margin of leaf blade have hair on them around 5mm long. 
Is it possible to
Panicum curvifolium
??
---
Urochloa ??
---
Urochloa have sessile spikelet. May be this is panicum sp. But which one is hard to know. In our state flora its similar to Panicum curvifolium. Is it possible????
---
Is it short because of grazing by buffaloes or goats? It is closest to wild forms of P.miliaceum (the cultivated forms are much different in size and other characters). P.curvifolium is entirely different. It would be better to protect from grazing or grow ex-situ so that it can attain and observed in its full form.
---
Will try for  ex-situ for proper identification.
---
.
---
Sc. Name for Varai, a millet crop : 6 posts by 5 authors.
Could anyone give the sc. name of 'Varai' a tiny white millet produced in Maharashtra in rainy season. It is eaten on a fasting day. It may a Eleusine sp. but certainly not E. coracana (Nachani).
---
Its common name in Vidarbha region is Bhagar. Could this be Echinochloa Colonum ??
---
Kodo millet (Paspalum scrobiculatum) is called as 'Varaku' / 'Varagu' in Tamil.
---
according to my records
Vari in Mah. and Guj. is Panicum miliaceum L.
Varagu in Tam. Paspalum scrobiculatum
---
I think … is correct in saying it is Echinochloa colonum
---
Thanks … for responding. I had all these names popping up. Apparently there seem to be several millets grown in different regions. I was looking for the one grown in north-west Maharashtra. BSI flora and T. Cooke's flora give Echinochloa colona as a weed and not as a crop. Varai, Bhagar or Nagli are not linked to any sc, name in any flora. A specimen alone may solve this confusion.
---