Impatiens viscosa Bedd., Madras J. Lit. Sci. ser. 2, 10:68, t. 7, fig. 7. 1859;
---
Erect annuals, 30-40 cm high. Leaves opposite, to 7 x 4 cm, acute at either ends, crenate, glabrous; petioles 0.8-2 cm long, eglandular. Peduncles 8-10 cm long, axillary. Flowers restricted to the terminal portion; pedicels 2 cm long, slender; lip 7 x 4 mm, ovate, acuminate; spur 15 mm long, ensiform, acute; sepals ovate, acute; standard 4 x 4 mm, rounded at apex; wings 15 x 8 mm, 2-lobed; lower lobe very small; dorsal auricle filiform, 10 mm long, produced into the spur. Capsule 10 x 4mm, glabrous; seeds many, 1 x 0.5 mm, densely hairy, dark-brown.
Flowering and fruiting: August-December
Margins of shola forests and grasslands
Southern Western Ghats (Endemic)
Impatiens-ID
: Attachments
(1). 6 posts by 4 authors.

Impaectie
species
from Idukki district of Kerala
. pls see this and let me know anybody
---
It doesn't look like I. viscosa.
Please check as per what … suggested. 
---
But I go with it is I. viscosa,  it differ from I. goughii mainly by the lobing of wing petals.
---
Yes … is right, It is Impatiens viscosa
---
kindly help me id this flower
1 close to a waterfall
near Vagamon, Kerala
---
.
---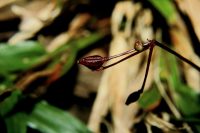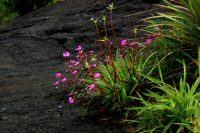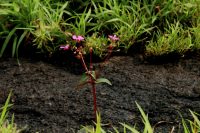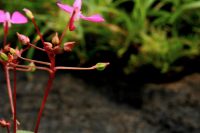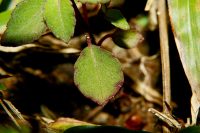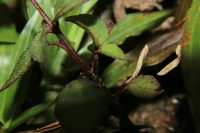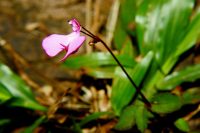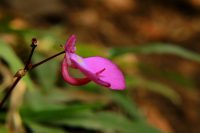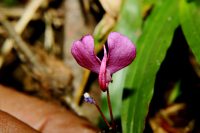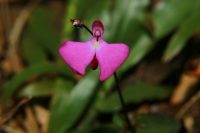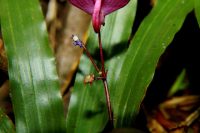 372 ID wild Balsaminaceae:
Please ID wild plant,
Location: near Vannappuram, Thodupuzha, Idukki Dist., Kerala PIN:685607
Altitude: 1500fsl
Flower date: 21SEP2022, 02.35pm
Habitat: wild moisture rocky misty hill, wind
Plant habit: unbranched, slender weak purplish angular fleshy stem 03.5mm base diameter, hairy, annual
Height: 15 cm
Leaves: alternate/opposite, ovate, acute, serrated margins, hairy, simple, size:03.5×2cm
Flower: axillary racemose, diameter:12mm, pink, non fragrant, gripped peduncle
Fruit: capsule purplish ovoid, size:04×2,5mm
Seed: 
Camera: CANON EOS1500D +FL10x
---
Impatiens viscosa Bedd.
---
Yes, it is Impatiens viscosa, thank you very much for ID my plant,
---
I also agree as per images at Impatiens viscosa Bedd.
---