---
Erect, ascending or decumbent herbs, often deep-rooted; branches usually opposite; stems terete, slightly swollen at nodes, frequently woody at base, glandular-pubescent, often purple-shaded. Leaves desussate, subsessile, elliptic, oblong or obovate-oblong, cuneate at base, shortly dentate-serrate at margin, acute at apex, 5-25 x 2-6 mm; midnerve very prominent and glandular beneath, sunken but prominent above; lateral nerves 3 or 4 pairs, alternate; stipules ovate-lanceolate or narrowly 3-angled, acuminate at apex, ca 1.5x 0.6 mm, glandular hairy at margin. Flowers ca 1 mm across, in axillary fascicles; pedicels ca 1.5 mm long, pilose. Sepals 3, ovate-lanceolate, acuminate at apex, ca 1-1.3 x ca 0.5 mm, hyaline and ciliate at margin. Petals 3, elliptic, obtuse at apex and often apiculate, as long as sepals, membranous, white or pinkish. Stamens 3, ca 1 mm long. Carpels 5, connate; ovary globose; styles 5, recurved. Capsules globose, ca 1.5 mm, with 5 longitudinal furrows, dehiscing into 5 valves at maturity; seeds numerous, minute, oblong or subcylindric, reticulate, shining, brown.
Flowering and fruiting: August-March
Fallow lands, paddy fields and grasslands
---
here is another
small herb
unknown to me. Please help in identification.
Found today (25.12.13)
in fallow field
,
Thane district, nr Tungareshwar WLS.

About 6 inches tall, hairy, leaves opposite decussate with serrate margins. Flowers in very tight clusters around leaf axils all along the stems. Buds reddish. Flowers open in afternoon, rosy pink, 5 petals. No milky latex. Stems terete.
---
Pls check for Bergia sp.
---
Bergia ammannioides looks to be a distinct possibility. I have read the descriptions in Fl of China and Fl of Pakistan. Thanks, …! If anyone knows the plant please comment.
---
It is Bergia ammanoides (Elatinaceae) only. Usually it will be available where Vahlia viscosa is available. Another species Bergia capensis is growing in paddy fields whis is succulent with bigger leaves.
---
Thank you very much …
---
---
Herb for ID xiii : 3 posts by 2 authors. Attachments (3).
Bannerghatta, Bangalore
June
---
It may be Bergia ammannioides.
---
---
---
Thanks for the id of this tiny herb.
May I request you to pl. post a high resolution image.
---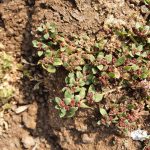 Adding..-1 high resolution image.
---
Yes it is Bergia ammannioides
---
---
Tiny Herb for ID : Nasik : 22APR21 : AK-13: 2 images.
Seen in a grassland in Nasik.
---
Bergia ammannioides
---
Since this plant is new for me, I could not guess it's the same I had posted yesterday.
---
Yes it's,
---
May I request you to pl. post high resolution images to see the details.
---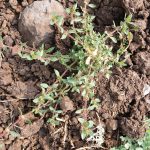 Adding high resolution images.
2 high resolution images.
---
Yes, appears close to images at Bergia ammannioides Roxb. ex Roth
---
---
.
References:
The Plant List  Flora of China  Flora of Pakistan (… & Bergia ammannioides var. pentandra Wight, Bergia pentandra Camb. ex Guill. & Perr.)  Annotated checklist of Flowering plants of Nepal  India Biodiversity Portal  IIIM (Herbarium)  JSTOR | Global Plants