Diospyros sylvatica Roxb., Pl. Coromandel 1: 38 1795.;
| | |
| --- | --- |
| Malayalam | Karimaram, Manjathuvara |
| Others | Karimaram |
.
---
Dioecious trees, to 18 m high, bark 3 mm thick, dull grey to black, thin; blaze yellow; branchlets puberulous. Leaves simple, alternate, estipulate; petiole 5-10 mm long, slender, glabrous; lamina 5-15 x 2-5 cm, elliptic, ovate, elliptic-oblong or elliptic-obovate, base acute or cuneate, apex acute, acuminate or obtusely acuminate, margin entire, glabrous, shining, membranous; lateral nerves 5-8 pairs, pinnate, obscure, intercostae reticulate, obscure. Flowers unisexual, white; male flowers: 6-10 in axillary cymes, 6 mm across; peduncle 5 mm long, puberulous; calyx 3 mm long, campanulate; lobes 4, ovate, acute, pubescent outside; corolla 6 mm long, campanulate, lobes 4, triangular, obtuse; stamens about 24; filaments in unequal pairs, ciliate at apex; female flowers; solitary or 3 together, 8-10 mm across; calyx much longer than in male, lobes ovate-oblong, acute; corolla campanulate; lobes triangular, obtuse; staminodes 4, inserted on the corolla and alternate with its lobes; ovary superior, globose, pubescent, 6-8-celled, 1-ovule in each cell; style 3-4, free, glabrous, bilobed with fringed margins. Fruit a berry, 16-18 mm across, globose, dark green, fruiting calyx enlarged, flat, foliaceous, spreading; seeds 2-8, oblong, rugose, shining, albumen ruminate.
Flowering and fruiting: March-April
Evergreen and semi-evergreen forests
---
Diospyros sylvatica
---
Resembling Hydnocarpus… but need more details.
---
In several places in this area the locals call Diospyros sylvatica as Malya
---
It seems to be Diospyros sylvatica Roxb. However it is not possible to confirm without flowers and fruits.
Please http://indiabiodiversity.org/species/show/10854, where the photo of leaves matches with the images attached to this message.
---
Yes, appears close to images at Biotik
---
.
---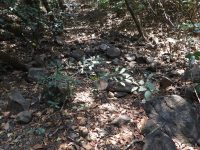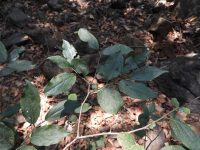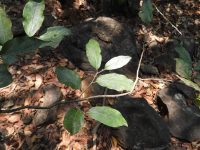 Tree sapling for identification_Saltar Forest: 3 images.
Sharing a sapling picture from Saltar forest, part of Sudhagad Wildlife Sanctuary.
Looked like Meiogyne pannosa. Experts please confirm.
Habitat-Sapling , Regeneration of a tree
Habitat- Wild, hill forest
Altitude-1000 m

Photographed -April 2023
---
Diospyros sylvatica
---
.
---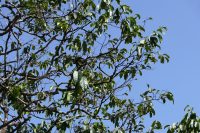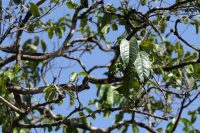 Diospyros sylvatica Roxb. :: Matheran :: Apr 1, 2023 · JUN23 DV228: 2 images.
Diospyros sylvatica Roxb.
Matheran :: Apr 1, 2023 · 2:35 PM IST :: about 800 m (2,625 ft) asl
Many thanks to Radha Veach for validating the ID at 
iNaturalist
---