Xanthostemon youngii C.T.White & W.D.Francis, Proc. Roy. Soc. Queensland 37: 159 1925 publ. 1926.;
Attached are pictures of Xanthostemon youngii captured at the Jijamata Udyan, Flower Show 2013 in February 2013.
---
This is new and nice, thanks …
---
Requesting ID of this red flower – Jija`mata Udyan Flower Show February 2013 :: 01022014 :: ARK-01
: Attachments (1). 7 posts by 3 authors.
Requesting to please ID this red flower captured in the Jijamata Udyan Flower Show, Mumbai in February 2013.
---
Is this also Combretum constrictum? Although the leaves look a bit different..
---
Looks like Xanthostemon youngii (Crimson Penda) – a Myrtaceae member
---
I think … is correct, It is Xanthostemon youngii
---
---
Adding some special ones for ending this fortnight.
Seen at the Flower Show in Mumbai during Feb,2014.
---
---
Dattaji Salvi Udyan  Thane
Date: May 1, 2018 … Altitude: about 11 m (36 feet) asl
I am not able to guess ID of this plant; wild guess is Syzygium. Please help with ID.
---
Can this be Xanthostemon youngii?
---
---
Thank you very much … for suggesting the ID; yes, I find it as Xanthostemon youngii.
---
---
The photographs, taken during last week  in my home garden, are attached.
Xanthostemon youngii
 is commonly known as 
crimson penda
 or red penda, is a species of

trees

found

only (endemic) in North Queensland

, of the family Myrtaceae. It has showy red blooms, but has been difficult to keep alive in cultivation.
However, I could  grow successfully in Mysore environment. I got a young plant of about 2 feet size in a local nursery 2 years back.
Please confirm the ID.
---
Thanks, …  Efi page available at
---
---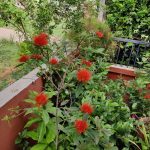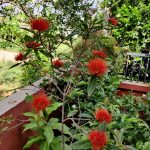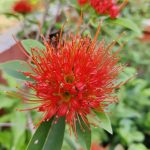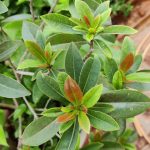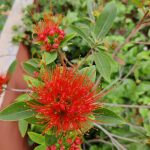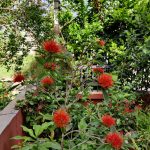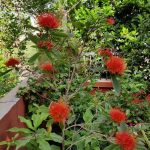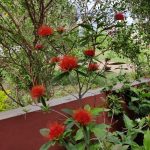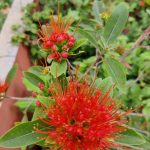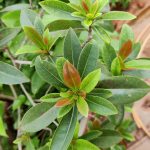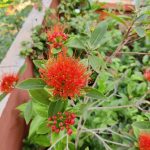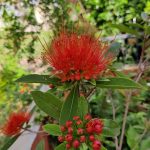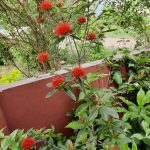 Swamy/New series/ID/16 – ID of the Plant Xanthostemon youngii
: 15 images.
Please confirm / suggest the ID for the plant photographed
in my garden
on 25.5.2021.
My Id is X
anthostemon youngii
---
Yes as per images and details at Xanthostemon youngii
---