Peperomia serpens (Sw.) Loud., Hort. Brit. 13 1830. (Syn: Acrocarpidium guildingianum Miq. ex Hook.; Acrocarpidium pulicare Miq.; Acrocarpidium scandens (Ruiz & Pav.) Miq.; Peperomia guildingiana (Spreng.) A.Dietr.; Peperomia ionophylla Griseb.; Peperomia myosurus Willd. ex A.Dietr.; Peperomia osana Trel.; Peperomia praecox Trel.; Peperomia pulicaris Opiz; Peperomia reniformis Hook.; Peperomia repens Kunth; Peperomia scandens Ruiz & Pav.; Peperomia scandens var. fertilior C.DC.; Peperomia scandens var. longispica Trel.; Piper bracteatum Thomps.; Piper guildingianum Spreng.; Piper herbaceum Miq.; Piper myosuros Willd. ex D.Dietr.; Piper pulicare D.Dietr.; Piper repens Poir.; Piper scandens (Ruiz & Pav.) M.Vahl; Piper serpens Swartz; Verhuellia serpens (Sw.) Miq.);
Hispaniola, Jamaica, Puerto Rico, Virgin Isl. (St. Thomas), Lesser Antilles (Grenada, Montserrat, St. Eustatius, St. Kitts, St. Lucia, St. Vincent), IslaMargarita, Trinidad, N-Brazil (Roraima, Amapa, Para, Amazonas, Acre), NE-Brazil (Bahia), WC-Brazil (Mato Grosso), SE-Brazil (Sao Paulo, Rio de Janeiro), Mexico(Chiapas, Oaxaca, Veracruz), Guatemala, Honduras, Peru, Nicaragua, Ecuador, Guyana, Surinam, French Guiana, Argentina (Misiones), Panama, Bolivia (Beni, Cochabamba, La Paz, Santa Cruz), Venezuela (Amazonas, Anzoategui, Apure,
Bolivar, Carabobo, Delta Amacuro, Miranda, Monagas, Nueva Esparta, Sucre, Tachira, Zulia), Colombia (Amazonas, Antioquia, Caquet, Cauca, Choc, Guaviare, Meta, Nario, Norte de Santander, Putumayo, Santander, Valle)
as per
Catalogue of Life
;
Ornamental plant seen in Nasik on 1/3/14.
This also seems to be Peperomia species.
---
Peperomia scandens
---
Thanks for the quick id of this Peperomia.
---
.
---
Ornamental, cultivated, potted plant with heart shaped leaves.
Seen
at the Flower Show in Jijamata Udyan
on 19/2/2011.
Could be Aptenia cordifolia?
---
efi page on Aptenia cordifolia 
---
aptenia cordifolia ?
depends on leaf size and  and can it trail?
there are several submissions right here in this group
BUT I HAVE MY DOUBTS
BECAUSE …
the leaves somehow remind me of pepperomia house plants
---
try pepperomia serpens 
---
Thanks … Could be Peperomia Species. Waiting for validation.
---
This is not Aptenia cordifolia, it may be Peperomia sp
---
Thanks … Then it could be the id suggested by …..Peperomia serpens.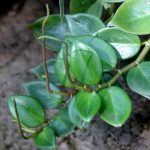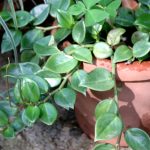 Peperomia magnoliifolia from Hassan District, Karnataka-GS26022021-1
2 images.
Peperomia magnoliifolia 
Cultivated, Photographed from Hoysala Village, Hassan Distt., Karnataka, 25-9-2015
---
I think it is Peperomia serpens (Cultivated) as per images and details herein.
Looks different from Peperomia magnoliifolia as per
https://garden.org/plants/photo/494338/
https://nurtureplant.in/product/peperomia-magnoliifolia/
https://mybageecha.com/products/peperomia-magnoliifolia
https://plantophiles.com/plant-care/peperomia-magnoliifolia/
---
Agree with …
---
---
.
References: Catalogue of Life  GRIN  The Plant List Ver.1.1  Flora of China  Tropicos  Wikimedia Commons