Rhododendron
formosum
Wall. var.
inaequale
C. B. Clarke, J. D. Hooker, Fl. Brit. India 3:473. 1882 "
inaequalis
" (syn: (≡)
Rhododendron inaequale
(C. B. Clarke) Hutch.);
Location :
Phawngpui (ca.2,000 m.), Mizoram. Date : 12-04-2012
.
Habit : A small tree or shrub. Habitat : Wild
---
It is most likely R. formosum var. inaequale.
---
.
---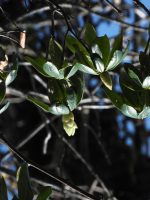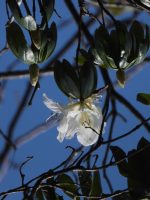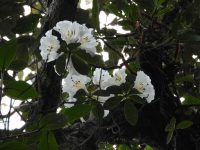 MS, April, 2023/02 Plant for id.
: 4 images.
Location : Hmuifang, Mizoram
Habit : Epiphytic shrub or climber ?
Azalea sp. ??
---
Can it be Rhododendron formosum var. inaequale:
https://efloraofindia.com/2014/04/28/rhododendron-formosum-var-inaequale/?
Experts may kindly confirm or otherwise pl.
---
Looks matching to Rhododendron inaequale (C.B.Clarke) Hutch.
https://powo.science.kew.org/taxon/urn:lsid:ipni.org:names:332623-1
---
Your identification is correct. It is Rhododendron formosum Wallich var. inaequale (Hutchinson) Cullen. It is a straggling shrub, often epiphytic. Flowers white with yellow blotch, very sweet scented.
Distributed in N.E.India: Arunachal Pradesh, Meghalaya, Manipur, Mizoram.
---
References:
GRIN  The Plant List Ver.1.1 (Unresolved)  Rhododendron formosum Wall var. inaequale C.B.Clarke (specimen)  India Biodiversity Portal