USA (Alabama, Arkansas, California, Connecticut, District of Columbia, Delaware, Florida, Georgia, Iowa, Illinois, Indiana, Kansas, Kentucky, Louisiana, Massachusetts, Maryland, Maine, Michigan, Minnesota, Missouri, Mississippi, North Carolina, North Dakota, Nebraska, New Jersey, New Mexico, New York, Ohio, Oklahoma, Pennsylvania, South Carolina, South Dakota, Tennessee, Texas, Virginia, Vermont, Wisconsin, West Virginia, Wyoming), Canada (Ontario),
Bermuda, Cuba (I), Costa Rica, Panama, Mexico (Aguascalientes, Baja California Sur, Chihuahua, Coahuila, Guerrero, Hidalgo, Jalisco, Mexico State, Michoacan, Morelos, Nuevo Leon, Oaxaca, Puebla, Queretaro, San Luis Potosi, Sinaloa, Sonora, Tamaulipas, Veracruz, Zacatecas), European Russia (I), Japan (I) (Honshu (I), Kyushu (I), Shikoku (I)), Australia (I) (New South Wales (I)), trop. Africa (I), South Africa (I) (widespread), Lesotho (I), Azores (I) (Terceira (I), Pico (I)), Hawaii (I) (Kure Isl. (I), Midway Isl. (I), Maui (I), Hawaii Isl. (I)), France (I), Italy (I), Germany (I), England (I), Spain (I), Switzerland (I), Greece (I), Sweden (I), Finland (I), Norway (I), Austria (I), Israel / Jordania (I), China (I) (Fujian (I)), Taiwan (I), Lithuania (a), Korea (I), Zimbabwe (I)
as per
Catalogue of life
;
---
Oenothera laciniata is a species of flowering plant in the evening primrose family known by the common name cutleaf evening primrose.
It is native to the eastern United States but it can be found in many other places as an
introduced species
and sometimes a
noxious weed
. It is reported from
Hawaii
, Australia, Britain, France, Korea, Japan, and other areas.

[1]

 
This is an annual or short-lived perennial herb producing a spreading stem from a hairy rosette of deeply cut or lobed leaves. Flowers occur in the axils of leaves higher on the stem. Each flower has pale to deep yellow petals up to about 2 centimeters long which fade orange, pink, or red with age. The fruit is a cylindrical capsule up to 5 centimeters in length.
I am a new user of this group. Please help me to identified this plant.
Habit- Herb
Habitat- Wet fields
Location- Jalandhar districts of Punjab, India
Picture taken- 16 April, 2012
---
Oenothera laciniata I hope
---
.
---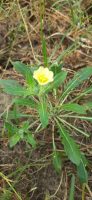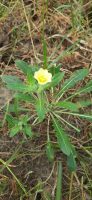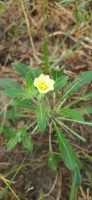 Request for id.: 3 high res. images.
Date:17/03/23,
Location: Moradabad- Uttar pradesh,
Habitat: Non agricultural land,
Habit: Herb,
Ht: 7-10cm,
Leaves: Compound, Inflorescence: Cymose, Flower: Yellow.
---
Check with Oenothera triloba
---
References:
Catalogue of life  The Plant List Ver.1.1  GRIN  India Biodiversity Portal  Wikipedia  Flora of China