Solanum
macrocarpon
L.,
Mant. Pl. 2: 205 1771
.;
.
Tropical Africa, Comoros, Madagascar:

Angola, Benin, Cameroon, Central African Repu, Comoros, Congo, Equatorial Guinea, Eritrea, Ethiopia, Gabon, Ghana, Guinea, Guinea-Bissau, Gulf of Guinea Is., Ivory Coast, Kenya, Madagascar, Malawi, Mali, Mozambique, Nigeria, Sierra Leone, Sudan, Tanzania, Togo, Uganda, Zambia, Zaïre, Zimbabwe;

Introduced into:

Egypt, Guatemala, Jamaica, Mauritius, Réunion

as per POWO;


.
---
Solanum macrocarpon otherwise known as the African Eggplant or Gboma is a plant of the Solanaceae family. S. macrocarpon is a tropical perennial plant that is closely related to the eggplant.[1] S. macrocarpon originated from West Africa, but is now widely distributed in Central and East Africa. Through an introduction from West Africa, the plant also grows in the Caribbean, South America, and some parts of Southeast Asia.[2] S. macrocarpon is widely cultivated for its use as a food, its medicinal purposes, and as an ornamental plant.[3]
S.macrocarpon can grow to a height of 1-1.5 m. It has an alternate leaf pattern with the blade width of 4–15 cm and a height of 10–30 cm. The shapes of the leaves are oval and lobed with a wavy margin. Both sides of the leaves are hairy with stellate or simple hairs. Prickles may or may not be present on the leaves depending on the cultivar. When prickles are present they are found more along the midrib and lateral veins. The prickles are straight and can grow up to a length of 13 mm. The flowers have a diameter of 3–8 cm and are located on short stalked inflorescence that can contain 2 to 7 flowers. The lower portion of the plant carries bisexual flowers while the upper portion contains male flowers. The flowers are 2-3.5 cm in length and usually have a purple or pale purple color, on rare occasions there are white flowers. The fruits are round, the top and the bottom are flattened out and have grooved portions with a length of 5–7 cm and a width of 7–8 cm.[1] The stalk of the fruit is 1–4 cm long and is either de-curved or erect. At a young stage the color of the fruit is green, ivory, or a purple and white color with dark stripes. When ripe, the fruit turns yellow or a yellow-brown. The fruit contains many seeds and it is partly covered by the calyx lobes. The seeds have a length of 3-4.5 mm, a width of 2-3.5 mm, and are shaped in an obivoid or reniform.[2]
S. macrocarpon has a large cultivar variety. It grows in areas of high rainfall found in the tropical and humid regions of West and Central Africa, South-East Asia, South America and the Caribbean. Some cultivars can be found in the savanna and semi-arid region of Northern Ghana, Burkina Faso and their neighboring countries. The cultivars grown there consist of plants with small leaves and fruit. The fruit cultivars are only able to grow in humid coastal areas. S. macrocarpon can occasionally be found at higher altitudes but have a slower growth rate and are more robust.
S. macrocarpon reproduces mostly by self-pollination. Out crossing occurs by bees and other insects but occurs at low frequencies. Early in the morning when it is still dark, the flowers open up. The stigma becomes receptive a few hours before the flower opens up and remains open for two days. The fruits are ready for picking 3–4 weeks after the fruit has set but it takes about 10 weeks for the fruits to ripen. Germination typically begins a week after sowing. Flowering does not occur until 2–3 months after germination. S. macrocarpon that resides in the savannahs have an earlier flowering period compared to plants that reside in areas with high amounts of rainfall. The savannah cultivars are also more resistant to drought.[2]
(From Wikipedia  on 1.6.14)
.
Location : Lengpui, Mizoram. Date : 16-05-2014.
Habit : Perennial herb or Herbaceous shrub ?
Note : Cultivated. Leaves and fruits are used as vegitable.
Fruit globose, yellow when ripe..
---
This should be S. macrocarpon
Fruit white coloured with leafy calyx
---
---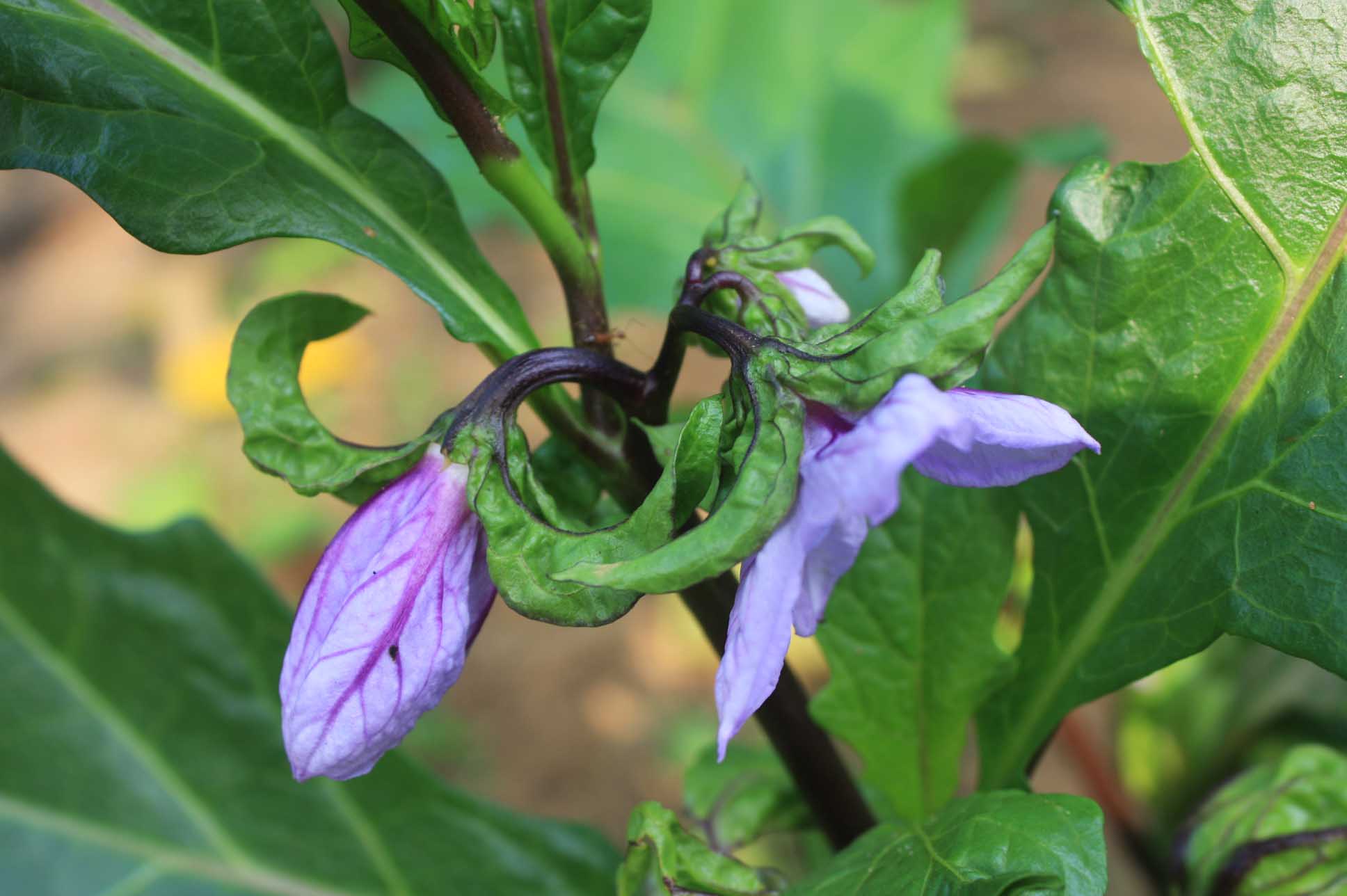 Solanaceae Week: Solanum macrocarpon PKFEB01/01
: 1 post by 1 author. Attachments (2)
Solanum macrocarpon
:
a edible species
with leafy bract.

Collected
from Attappady and Wayanadu

tribals colony

at Kerala during September 2014
---
Very beautiful find and pics
---