Armeria
pseudarmeria
(Murray) Mansf., Repert. Spec. Nov. Regni Veg. 47:140. 1939 (Syn: (≡)
Statice pseudarmeria
Murray (basionym));
---
Plumbaginaceae and Primulaceae (incl. Myrsinaceae) Fortnight: Plumbaginaceae-Armeria pseudarmeria from California-GSJUN12 : 1 post by 1 author. Attachments (3).
Armeria pseudarmeria (Murray) Mansf.
A native of Portugal, cultivated in University of California Botanical Garden, similar to A. maritima but much broader leaves, longer scapes and heads often 3 cm or broader.
---
---
---
Thanks … for prompting me to dig out my photographs of this.
---
By the way …, was it labelled as A. pseudoarmeria?, because most plants in USA are A. maritima. This can help:
A. Maritima: Leaves 2-3 mm broad, head less than 2 cm across, scape less than 40 cm, flowers smaller
A. pseudarmeria: Leaves broader than 5 mm, head 3-4 cm across, scape 30-80 cm long, flowers larger
---
Thanks … for the feedback….
Your query regarding the species ID made me look up the folder of raw pics clicked at the Chicago Botanic Gardens. I normally do not save the label pics, I delete them after naming the plant pics appropriately. Luckily I still had the label for this particular plant and yes, it is labelled Armeria pseudarmeria 'Joystick Red Thrift'.
Anyway, learning a lesson, I will now save the label pics as well….
---
I also need to dig out my pictures from Yellowstone to find whether I have any Armeria.
---
.
---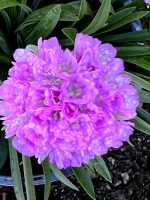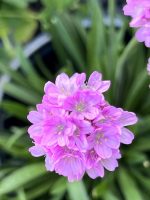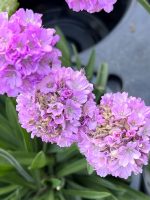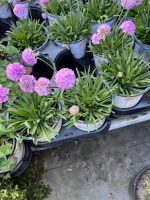 Armeria pseudarmeria 'Sweet Dreams' from California-GS11042023-2: 5 very high res. images.
Armeria pseudarmeria 'Sweet Dreams', cultivar with pink heads about 4 cm across on stiff scapes up to 35 cm long, leaves linear-lanceolate, up to 25 cm long, up to 1 cm broad.,
photographed from Fremont, California.
---
Yes as per images at
https://efloraofindia.com/2014/06/14/armeria-pseudarmeria/
---