---
Large rambling shrub, deciduous; branchlets slender, puberulous. Leaves elliptic, thinly coriaceous, 11-20 x 4-6.5cm, finely acuminate, acute at base, glabrous except for sparse pubescence on veins; petioles c 5mm, puberlous. bracts and stipules connate, forming a scarious dentate ring; bracteoles small, opposite scales. Flowers 4 merous, bisexual subsessile at anthesis. Calyx glabrous tube 0.8mm; lobes 0.7mm, appresed to corolla. Corolla yellowish green, glabrous outside; tube 5.5-6mm; lobes ovate, spreading, 2.5mm. Anthers 1.6mm. Style reaching base of anthers. Fruits globose or obovoid, 7mm across with persistant calyx..
(Attributions- A.C.J Grierson & D.G Long. Flora of Bhutan. Published by RBGE and RGoB. 1987 From Biodiversity of Bhutan )
.
---
Place : Hmuifang
Altitude : 1,400 – 1,600 m.
Habit : shrub
Habitat : Wild
Date : 25-011-2013
---
It is Nostolachma khasiana (Korth.) Deb & Lahiri. 
---
Thank you very much sir … for the id
---
---
Location :
Hmuifang, Mizoram. Altitude : ca.1,500 m.

Habit : Small tree. Habitat : Wild
.
---
It's a member of Rubiaceae
Most probably coffee plant but I am not sure
But it's a member of Rubiaceae
---
Nostolachma khasiana as per another thread.
---
---
---
Does look like Coffea sp. Pl chk the flora for spp..
---
Which are the species recorded in your area ?
---
Only Coffea arabica is recorded in Mizoram which is cultivated. That my plant (Coffea) is growing wild.
---
Thanks, … Than pl. also check images at Coffea arabica L.
---
Same Coffea sp.
Attachments (1)
---
This tree is growing wild in higher altitude (1,500-1,800 m). Is it Nostolachma khasiana ?
Altitude : ca 1,400 m or more
Habit : Shrub or small tree
---
The images are of Nostolachma triflorum (Korth.) R. Kr. Singh
synonym Nostolachma khasiana (Hook. f.) Deb & Lahiri
See the article of mine attached here on this species.
Attachments
(1)
– 75. – A New Combination and Lectotypification of Two Names in the Genus Nostolachma (Rubiaceae).pdf- 2 mb.
---
.
---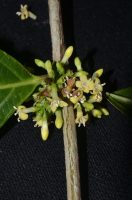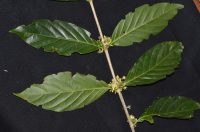 MS, April, 2023/24 Shrub for id: 2 images.
Location : Hmuifang, Mizoram
Habit : Shrub

Habitat : Wild
---
Lasianthus??
---
Yes, it appears so.
After going through the keys in the post at MS,Jan.,2021/20 Lasianthus sp. ? for id. and checking all three species, I feel it appears close to Lasianthus inodorus as per GBIF specimens and Researchgate illustrations
---
It could be Diplospora species.
---
I could finally match it to
https://efloraofindia.com/2014/08/01/nostolachma-triflorum/
---