Impatiens falcifer Hook.f., Bot. Mag. 129: t. 7923 1903.;
Common name: Sickle Balsam • Tamang: राजा बुबु Raja bu bu
I am enclosing some pictures of Impatiens for ID.
Location: Dolakha District, East Nepal

Altitude : 7000 ft.
---
Seems to be Impatiens scabrida commom in Nepal
---
I can't agree with this opinion. I am sure this is I. falcifer or someting very close. Shape of lateral petals is like in I. falcifer pictures. Besides, I. scabrida has big and wide lower sepal, lacking in this plant.
---
---
Nepali Name : राजा बु बु  Raajaa Bu Bu
---
It is Impatiens falcifer or at least something very similar.
You can find pictures in paper uploaded in other thread by Dr. Akiyama
---
---
Location:  Phulchoki, Lalitpur
Why slight difference of name in POWO?
---
It is just like writing your name as Saroj Kmr. or Saroj K.
---
---
I have what looks like Impatiens falcifer but it is different from webpage photos
A couple of image of this appealing balsam which, I believe, 
originated in Nepal
 scanned in from slides.
Any ideas as to identity?
---
I wrote about it several days ago, it is somewhat similar to I. falcifer but lower petals have different shape and lacks red or rusty markings.
---
Impatiens falcifer Hook.fil. !
---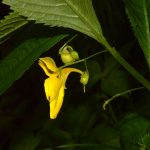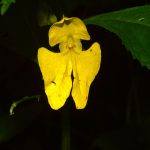 Impatiens falcifer Hook. fil.: 2 high res. images.
Location: Phulchoki, Lalitpur
---
.
References: The Plant List Ver.1.1 GRIN  Flora of China  Flowers of India