W. South America to W. Brazil
(as per
WCSP
);
It is a clump-forming
evergreen
perennial
growing to 50 cm (20 in). The large rounded leaves are dark green above, red below, marked heavily with cream or pink stripes "painted" along the veins and midriff, with feathered margins.
---
---
Calathea
roseopicta
(Linden) Regel
Photographed
from Sunnyvale, California
---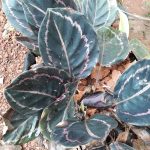 Id of an ornamental herb : 3 posts by 2 authors. Attachments (1)- 6 mb.
Request for identification of an ornamental herb from Mahe. Photographed in December, 2019.
---
Marantaceae member,
Calathea roseopicta, 
---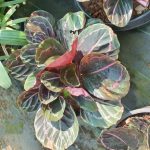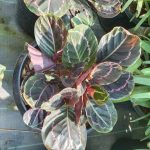 Ornamental Plant for ID : Nasik : 15JAN22 : AK – 25
: 2 images.
Ornamental plant seen at a plant nursery
in Nasik.

Calathea
Species?
---
Looks like
---
Close to Calathea roseopicta.
---
References:
WCSP  The Plant List Ver.1.1   Wikipedia