---
Rhizome small, purplish-lilac inside, strongly aromatic; roots fleshy, bearing fleshy root tubers. Leafy shoot 50-90 cm tall, erect. Leaves subsessile, 15-23 x 5-9 cm, oblong-lanceolate, base oblique, apex acuminate, upper surface sparsely pubescent, lower densely pubescent; ligule c. 5 mm long, bifid, coriaceous. Inflorescence produced directly from the rhizome; peduncle short or absent; spike ovate or subglobose, enclosed within obovate reddish sheaths. Flowers 4.5-5 cm long, one in each bract; bracts 3-4 x 0.8-1.2 cm, lanceolate, apex acuminate, reddish-green; bracteoles c. 2.5 x 1 cm, lanceolate. Calyx tubular, 1-1.2 cm long, unilaterally split, membranous, white. Corolla tube 2.5-3 cm long, slender, white; lobes 3, subequal, yellowish-orange. Labellum c. 2.5 x 1.2 cm, 3-lobed, light yellow with pink spot; mid-lobe ovate, bifid at apex. Anther sessile, yellow. Stigma slightly projecting from the anther-crest. Epigynous glands c. 5 mm long, yellow. Capsules c. 4 x 2 cm, trigonous, whitish when young, turning to deep red at maturity. Seeds 6-7 x 3-4 mm, dark brown; aril white.
Flowering and fruiting: July-October
Moist deciduous forests, also in the plains
Western Ghats
(From India Biodiversity Portal
Attributions- Dr. N Sasidharan (Dr. B P Pal Fellow), Kerala Forest Research Institute, Peechi)
.
---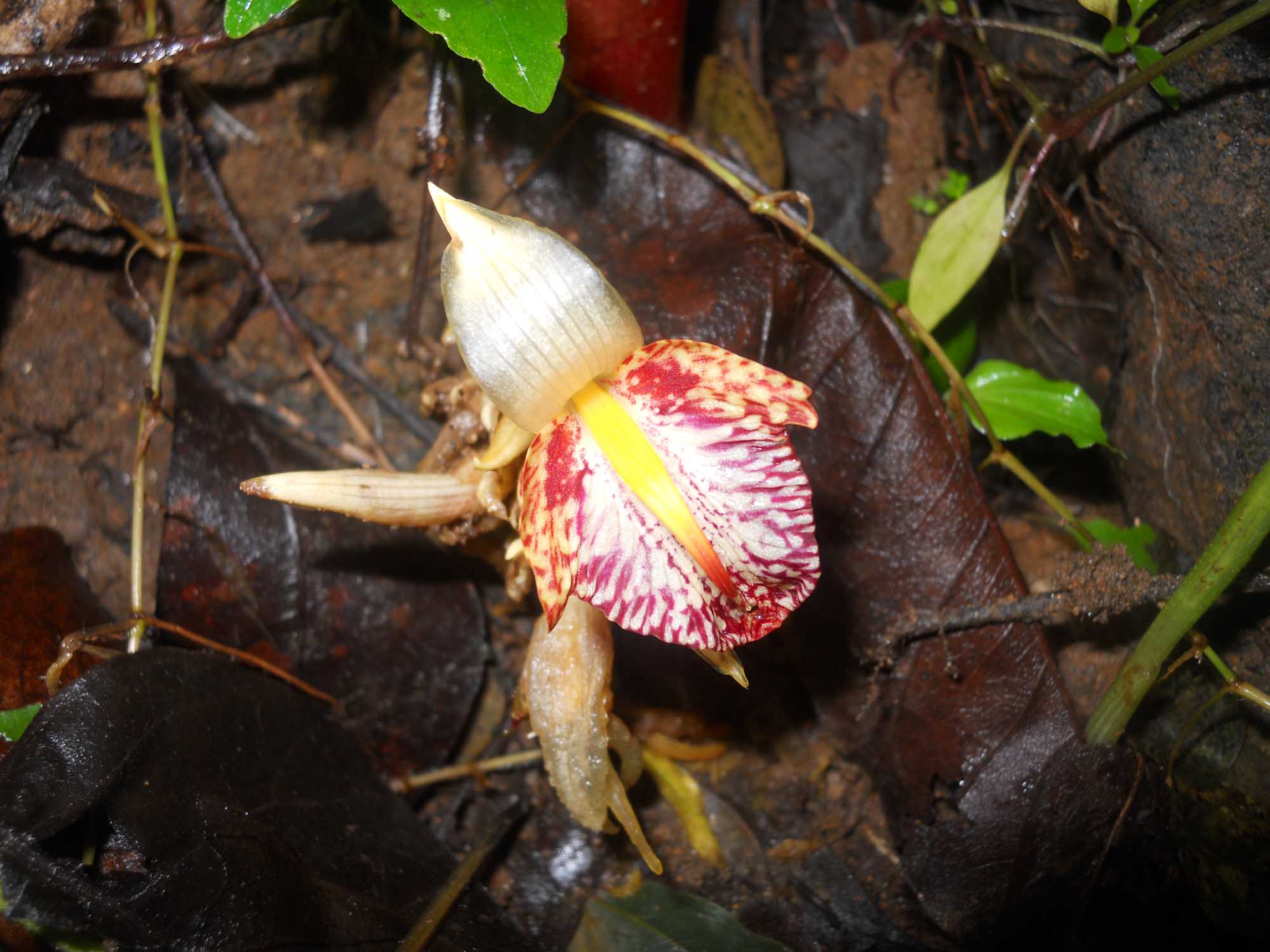 ---
Excellent capture of a beautiful plant..!!
---
---
I am attaching here two photographs of the plant in question. This plant is a
planted one in Areca nut (Betel nut) Garden
. This is in a village called
Tattikai
situated
in the high rainfall area of Western Ghats.
Kindly help me identifying this plant and I request you for some details on the plant.
I thank you in advance.
---
Could be some species of Zingiber.
In wilderness of Western Ghats we see Z. cernuum with a similar sight, though to me, the leaves seem slightly different in the posted plant
---
It is Zingiber nimmonii Dalz. a common ginger of Western Ghats.
---
---
Identification : 1 image.
Date/Time-  18 th Nov 2020- 10 an
Location- Place, Altitude, GPS- Khandala, Maharashtra-550 m
Habitat- Garden/ Urban/ Wild/ Type-garden
Plant Habit- Tree/ Shrub/ Climber/ Herb-
Height/Length- 4/5 " about a foot in diameter all together 
---
Zingiber sp.
---
Remembering Zinziber roseum to me
---
My guess is Zingiber nimmonii (J.Graham) Dalzell !
---
May be Zingiber nimmonii?
---
128 ID wild plant Zingiberaceae: 18 images.
Please ID wild plant,
Location: near Reserve Forest, Chathamattom, Ernakulam District, (Kochi) Kerala PIN:686671
Altitude: 1400fsl
Flower date: 02.08.2021, 03.15pm
Habitat: wild moisture
Plant habit: erect/slightly obliquely, fleshy weak stem 12mm diameter, rhizome, mild aromatic, annual
Height: 05 feet
Leaves: alternate, mild aromatic, ovate, oblong, apex, size:18×7 inch
Flower: size:17×13×9mm, whitish purple shaded, mild fragrance
Fruit:
Seed:
Camera: mobile Samsung Galaxy A21s
---
Zingiber nimmonii (Z. cernum)
---
I am not finding any reference or publication on the net giving the
 Zingiber cernum
 as a syn. of
 Zingiber nimmonii
.
May I request you to pl. clarify in the matter or give the reference pl.
---
---
---
.
References: efi thread  The Plant List Ver.1.1  WCSP  e-monocot  India Biodiversity Portal