---
Rhizome small, purplish-lilac inside, strongly aromatic; roots fleshy, bearing fleshy root tubers. Leafy shoot 50-90 cm tall, erect. Leaves subsessile, 15-23 x 5-9 cm, oblong-lanceolate, base oblique, apex acuminate, upper surface sparsely pubescent, lower densely pubescent; ligule c. 5 mm long, bifid, coriaceous. Inflorescence produced directly from the rhizome; peduncle short or absent; spike ovate or subglobose, enclosed within obovate reddish sheaths. Flowers 4.5-5 cm long, one in each bract; bracts 3-4 x 0.8-1.2 cm, lanceolate, apex acuminate, reddish-green; bracteoles c. 2.5 x 1 cm, lanceolate. Calyx tubular, 1-1.2 cm long, unilaterally split, membranous, white. Corolla tube 2.5-3 cm long, slender, white; lobes 3, subequal, yellowish-orange. Labellum c. 2.5 x 1.2 cm, 3-lobed, light yellow with pink spot; mid-lobe ovate, bifid at apex. Anther sessile, yellow. Stigma slightly projecting from the anther-crest. Epigynous glands c. 5 mm long, yellow. Capsules c. 4 x 2 cm, trigonous, whitish when young, turning to deep red at maturity. Seeds 6-7 x 3-4 mm, dark brown; aril white.
Flowering and fruiting: July-October
Moist deciduous forests, also in the plains
Western Ghats
(From India Biodiversity Portal
Attributions- Dr. N Sasidharan (Dr. B P Pal Fellow), Kerala Forest Research Institute, Peechi)
.
---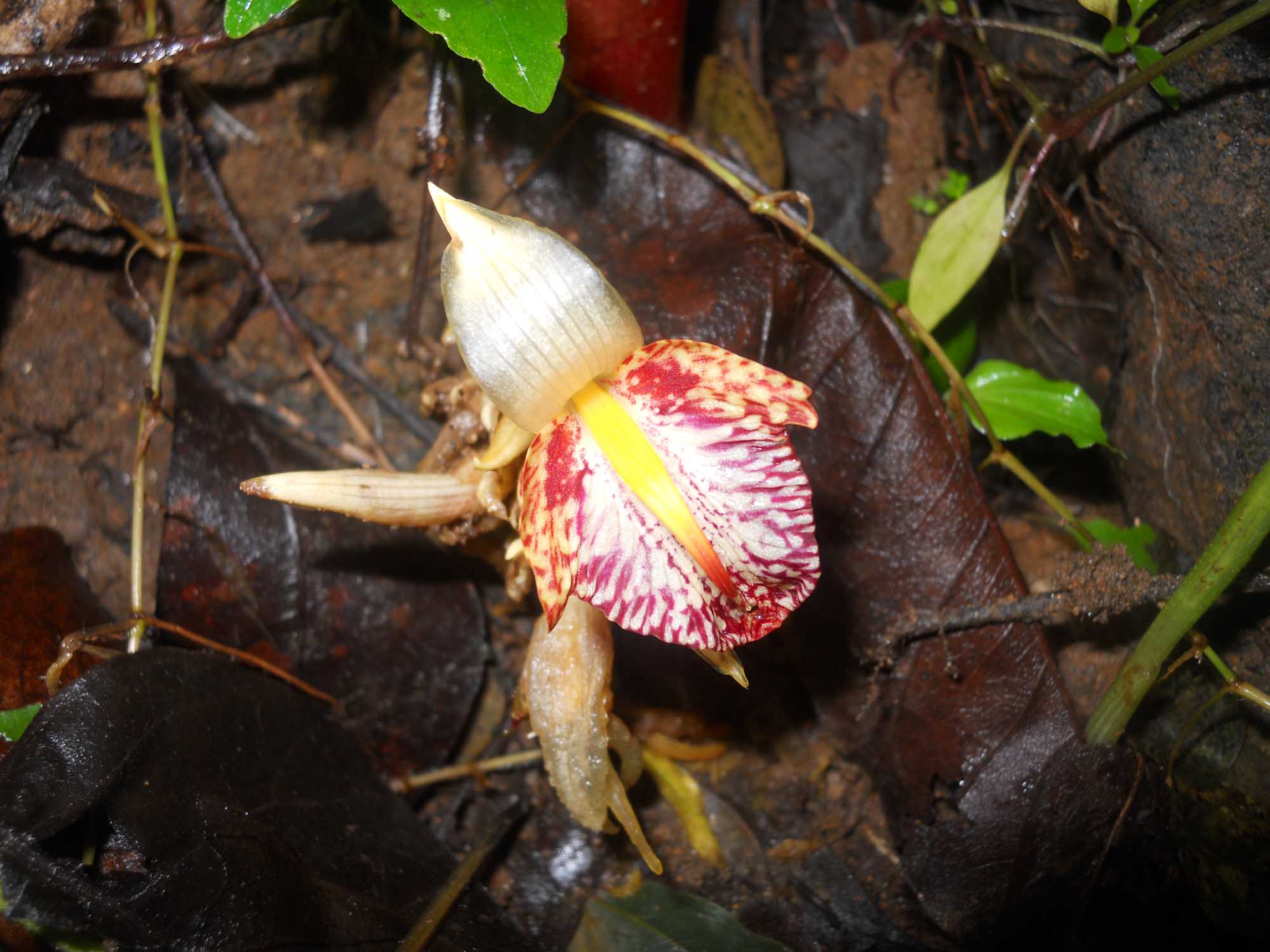 ---
Excellent capture of a beautiful plant..!!
---
---
I am attaching here two photographs of the plant in question. This plant is a
planted one in Areca nut (Betel nut) Garden
. This is in a village called
Tattikai
situated
in the high rainfall area of Western Ghats.
Kindly help me identifying this plant and I request you for some details on the plant.
I thank you in advance.
---
Could be some species of Zingiber.
In wilderness of Western Ghats we see Z. cernuum with a similar sight, though to me, the leaves seem slightly different in the posted plant
---
It is Zingiber nimmonii Dalz. a common ginger of Western Ghats.
---
---
Identification : 1 image.
Date/Time-  18 th Nov 2020- 10 an
Location- Place, Altitude, GPS- Khandala, Maharashtra-550 m
Habitat- Garden/ Urban/ Wild/ Type-garden
Plant Habit- Tree/ Shrub/ Climber/ Herb-
Height/Length- 4/5 " about a foot in diameter all together 
---
Zingiber sp.
---
Remembering Zinziber roseum to me
---
My guess is Zingiber nimmonii (J.Graham) Dalzell !
---
May be Zingiber nimmonii?
---
128 ID wild plant Zingiberaceae: 18 images.
Please ID wild plant,
Location: near Reserve Forest, Chathamattom, Ernakulam District, (Kochi) Kerala PIN:686671
Altitude: 1400fsl
Flower date: 02.08.2021, 03.15pm
Habitat: wild moisture
Plant habit: erect/slightly obliquely, fleshy weak stem 12mm diameter, rhizome, mild aromatic, annual
Height: 05 feet
Leaves: alternate, mild aromatic, ovate, oblong, apex, size:18×7 inch
Flower: size:17×13×9mm, whitish purple shaded, mild fragrance
Fruit:
Seed:
Camera: mobile Samsung Galaxy A21s
---
Zingiber nimmonii (Z. cernum)
---
I am not finding any reference or publication on the net giving the
 Zingiber cernum
 as a syn. of
 Zingiber nimmonii
.
May I request you to pl. clarify in the matter or give the reference pl.
---
---
.
---
Zingiber cernuum in FOI: 3 images.
Zingiber cernuum in FOI (images attached) should be a syn. of Zingiber nimmonii (J.Graham) Dalzell as per efi thread though POWO says both to be different.
Pl. check.
---
Everywhere is the same image for Z. cernum which looks wrong. This should be the correct image for the Z. cernuum ??
https://uk.inaturalist.org/taxa/139935-Zingiber-cernuum
---
Thanks very much, …, for surfacing this Zingiber cernuum VS nimmonii.
Considering they are different species, we need to see sufficient observations from the field experts; so that we can easily differentiate them.
I think they are not easily differentiated visually when we see the plant in the fruiting phase OR with dehisced fruits.
Shrikant ji Ingalhalikar's  Further Flowers of Sahyadri, the second among the three field guides to identify plants of northern Western Ghats of India, based on flowers, have photos of both plants:
Zingiber cernuum: page 380
Zingiber nimmonii: page 397
My observation of the Zingiber cernuum illustrated at FOI, agrees well with the illustration in Shrikant ji's FFOS.
But, all this could be wrong, and corrections will need to be done at all places.
…, Clicking on the link you provided takes us to a page showing a flower photographed by one of our friends Sushant More.
On that same page, clicking on "View more" leads us to a page showing two more photos of flowers, looking different.
Both observations – Sushant's and mine – need to be validated by experts.
Sushant had discussed Zingiber nimmonii with me; he said most of the plants of nimmonii in Western Ghats are wrongly identified as cernuum.
I have requested him to write an article or paper about this myth, based on which I can shift IDs of my observations to nimmonii.
---
Thanks … for bringing this up. Is there a published paper where Zingiber cernuum is treated as a synonym of Zingiber nimmonii? If there isn't, I will wait for such revision of the species by the botanical community. Till then I will continue to follow POWO.
---
Sabu ji has provided book references at
https://groups.google.com/g/indiantreepix/c/U5SWxAT1Rqc
---
Yes, I agree with you. There are not many images of the Z. cernuum on the net. We need look for keys and description to short this out.
Shushant Ji other images on
cernuum
is different.
https://www.flickr.com/photos/66499264@N05/9664123786
6 screenshots
---
… images posted by me on flicker are very old i haven't updated the captions yet and those are Z . nimmonii only. i will update it soon.
---
Sabu ji is the expert in this area and we should follow him.
---
---
.
References:
POWO  efi thread  The Plant List Ver.1.1  WCSP  e-monocot  India Biodiversity Portal