Colocasia
fallax
Schott,
Bonplandia (Hannover) 7: 28 1859
(syn:
Colocasia heterochroma H.Li & Z.X.Wei
;
Colocasia kerrii Gagnep.
;
Colocasia tibetensis J.T.Yin
;
Colocasia yunnanensis C.L.Long & X.Z.Cai
);
.
Uttarakhand to China (Yunnan) and Indo-China: Assam, Bangladesh,
China South-Central,
East Himalaya, India, Myanmar, Nepal,
Thailand, Tibet, Vietnam,
West Himalaya as per
POWO
;
.
---
Wild Alocasia sp. 1 (?) from Kamrup district, Assam:
Attached images are Wild Alocasia sp.(?) growing on hilly area near stream. Please ID for it.
Date : 21.12.2012
Location: Kamrup district, Assam
Family : Araceae
Genus & species : Alocasia Sp. (?)
Habitat: Grows wild on hill near stream
Flower : Not seen
Fruits :not seen
---
To me, it is a kind of Colocasia. Although the middle of the leaves are whitish, I think it is Colocasia esculenta.
---
Almost certainly Colocasia affinis Schott, but as with the Alocasia would need to see an inflorescence (and of course the fertile portions of the spadix), to be certain.
I have forwarded my reply and will forward your original email to …, the world expert on the genus Colocasia
---
To me, this looks somewhat like Colocasia fallax in its relatively low- and close-clumping growth habit, and the light blush along the main vein on the upper side of the blade. But the blade colour is a lighter green, and the front lobe of the blade is more elongate, than what I have seen previously in Colocasia fallax. We can be certain this is Colocasia sp., but as …, says, we need to see the inflorescence to reach any conclusion about species-level identification.
I am currently traveling, but when I return to Japan in early January, I can look at some photos another colleague (archaeologist) in Assam sent me last year. He may have photographed the same or a similar plant.
---
Thank You very much Sir for ID. The particular species is not in flowering stage now. When flowering begin I will take and send the images of the spadix to you.
---
That looks very much like Colocasia fallax, which is common in Meghalaya. It seems to show considerable variation in the blush on the blade and the presence or absence of dark coloured patches on the blades (even within one population), though fully green blades seem to be the most common.
---
.
MS, April, 2014/03 Colocasia sp. for id.
: 1 image.
Location : Lengpui, Mizoram
Colocasia fallax ?
---
Yes, may be Colocasia fallax as per discussions at Wild Alocasia sp. 1 (?) from Kamrup district, Assam
---
This is clearly C. fallax in my view. The blade has a generally dark hue, and mostly rounded outline with distinct sinus.
The pale blush, and purple patches on blades (not in your photo, but seen by me in Meghalaya) are highly variable, within and between local populations.
My only experience of C. affinis is with the ornamental form, var. jenningsii, of unknown original provenance. That plant was much more tender or cold sensitive than C. fallax (which I had growing alongside C. affinis, in Australia and Japan, in 1987-1990). In Meghalaya, winter temperatures go down to 3-4 deg. C. apparently.
In places where you have seen C. affinis in Mizoram, would temperatures get that cold?
---
---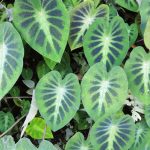 Location : Lengpui, Mizoram
Date : 04-01-2014
It is confusing!
I believe what you have in this photo is the variegated form of C. fallax, with the blush, leaf shape, and distinct sinus that is seen with plainer form.
The attached photo is C. affinis var. jenningsii photographed by me in Luzon, Philippines, where it grows as a naturalizing ornamental. The blade has a much more shallow sinus than your plant, similar to (a) the example of var. jenningsii that I obtained from the Sydney Botanic Gardens in the 1980s, and photographed in the attached version of my PhD work (see pdf page no. 128), and also to the plant described by Sasikala and Kumali (2014) (attached).
I am not convinced that var. jenningsii is actually the same species as non-variegated C. affinis described by Deva and Naithani (1985)… but I am fairly confident that the variegated form of C. fallax is a natural variant in wild populations of C. fallax.
The best description of C. affinis (var. jenningsii) is in Sasikala and Kumali (2014), who describe a population in Kerala, far from where C. affinis is expected (based on other reports of C. affinis). This makes me wonder if (a) they have found a natural population of var. jenningsii, and (b) this is a South Indian species different from C. affinis (non- variegated) found in Himalaya, and different from the variegated forms of C. fallax.
---