Laurus nobilis L., Sp. Pl. 369 1753. ;
---
Laurus nobilis is an aromatic evergreen tree or large shrub with green, glossy leaves, native to the Mediterranean region. It is one of the plants used for bay leaf seasoning in cooking. It is known as bay laurel, sweet bay, bay tree (esp. United Kingdom), true laurel, Grecian laurel,[1] laurel tree or simply laurel. Laurus nobilis figures prominently in classical Greek, Roman, and Biblical culture.
Worldwide, many other kinds of plants in diverse families are also called "bay" or "laurel", generally due to similarity of foliage or aroma to
Laurus nobilis
, and the full name is used for the California bay laurel (
Umbellularia
), also in the family Lauraceae.
The laurel can vary greatly in size and height, sometimes reaching 10–18 metres (33–59 ft) tall.
Laurus
is a genus of
evergreen
trees
belonging to the Laurel family,
Lauraceae
. The genus includes three species, whose diagnostic key characters often overlap (Mabberley 1997).
The laurel is
dioecious
, with male and female
flowers
on separate plants.

[2]

Each flower is pale yellow-green, about 1 cm diameter, and they are borne in pairs beside a leaf. The leaves are 6–12 cm long and 2–4 cm broad, with an
entire
(untoothed) margin. On some leaves the margin undulates.

[2]

The
fruit
is a small, shiny black berry-like
drupe
about 1 cm long

[2]

that contains one seed.

[3]
The plant is the source of several popular
herbs
and one
spice
used in a wide variety of recipes, particularly among Mediterranean cuisines.

[2]

Most commonly, the aromatic
leaves
are added whole to Italian pasta sauces. However, even when cooked,

whole bay leaves can be sharp and abrasive enough to damage internal organs,

[

citation needed

] so they are typically removed from dishes before serving, unless used as a simple
garnish
.

[5]

Whole bay leaves have a long
shelf life
of about one year, under normal temperature and humidity.

[5]

Bay leaves are used almost exclusively as flavor agents during the food preparation stage;
Ground bay leaves, however, can be ingested safely and are often used in soups and stocks, as well as being a common addition to a Bloody Mary.[5] Dried laurel berries and pressed leaf oil can both be used as robust spices, and even the wood can be burnt for strong smoke flavoring.[5] Aqueous extracts of bay laurel can also be used as astringents and even as a reasonable salve for open wounds.[6]
---
---
Is it the same species known as bay leaf and used as spice?
---
Yes …, this one of the species whose leaves are sold under bay leaf and used as spice. in India we have Cinnamomum tamala (tej pata), the Indian Bay leaf
---
.
---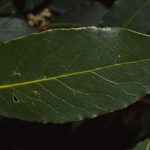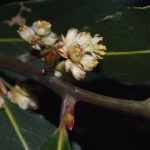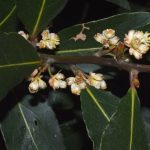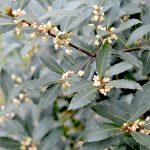 SK 3374 29 March 2022
: 4 very high res. images.
Location: National History Museum, London 
Date: 27 March 2022

Habit : Cultivated 
---
Laurus nobilis.
---
.
---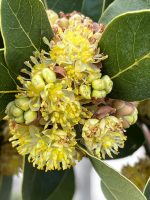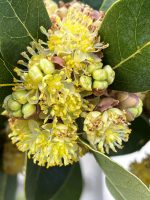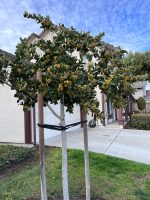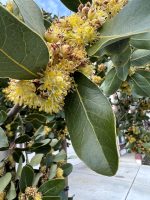 Laurus nobilis male tree from California-GS12032023-1: 4 very high res. images.
Last time I had posted a female tree from California, female flowers generally occur 1-3 together.
https://groups.google.com/g/indiantreepix/xMJ
Sharing pictures of male tree with numerous flowers in each cluster, each flower with 10-12 stamens.
Photographed from Fremont California.
---
Yes, appears close to images and references at
https://efloraofindia.com/2014/10/02/laurus-nobilis/
---
---
.
References:
POWO  The Plant List Ver.1.1  Wikipedia
https://hort.extension.wisc.edu/articles/sweet-bay-laurus-nobilis/
http://tropical.theferns.info/viewtropical.php?id=Laurus+nobilis
https://plants.ces.ncsu.edu/plants/laurus-nobilis/