Synonym
:
Glycycarpus racemosus
Dalz.;
Nothopegia dalzellii
Gamble var.
angustifolia
Gamble as per
Biotik
;
.
---
Habit- Trees, up to 15 m tall.
Trunk & Bark- Bark finely fissured, blaze brown.
Branches and Branchlets- Branchlets stout, glabrous.
Exudates- Latex black and scanty.
Leaves- Leaves simple, alternate, spiral; petiole 1-2.7 cm long, stout, glabrous, usually twisted; lamina 8-23 x 3.5-6.2 cm, oblong to oblanceolate, apex acuminate, base acute, margin slightly undulate, glabrous, coriaceous, glaucous beneath; midrib slightly raised above; secondary nerves 9-25 pairs, nearly parallel; tertiary nerves weakly percurrent.
Inflorescence / Flower- Inflorescence axillary racemes, 2-4 cm long, rusty pubescent; flowers polygamous.
Fruit and Seed- Drupe, reddish, oblate, 1 x 1.5 cm, apiculate, 1-seeded
Understorey trees in low elevation evergreen to semi-evergreen or secondary moist deciduous forests.
India and Sri Lanka; in the Western Ghats South and Central Sahyadri

(Attributions- B. R. Ramesh, N. Ayyappan, Pierre Grard, Juliana Prosperi, S. Aravajy, Jean Pierre Pascal, The Biotik Team, French Institute of Pondicherry from
India Biodiversity Portal
)


.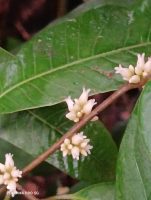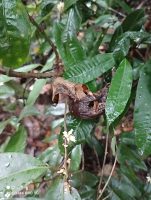 ID KZD 03/15/10/23
: 2 images.
Please identify this species
from Kozhikode district of Kerala……
looks like
Nothopegia.
15/10/23
---
Pl. check:
https://efloraofindia.com/2011/03/02/glycosmis/
---
But the leaves look different here….. seems simple instead of compound in Glycosmis
---
Do you have any other or better images?
---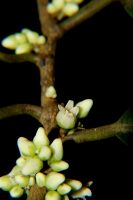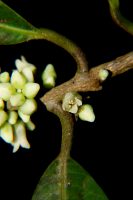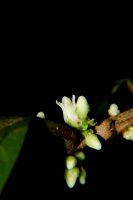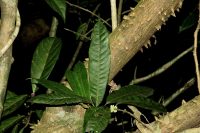 I think these are matching.
5 images.
---
Thanks, I'll check them out. In fact these are identified as which genus?
---
No idea dear …, it's my first posting,
---
Few more photos are available
---
Nothopegia sp
---
Seems to be Nothopegia racemosa
---
---
Nothopegia confirmed, please stay away from the plant
---