India and Sri Lanka; in the Western_Ghats- South and Central Sahyadris
as per
Biotik
;
.
Vernacular names :
Tamil:
 Atta illuppei
Malayalam:
 Attuillupei, Neeririppa, Wallangi, Eluppa, Kattiluppa, Attilippa
Kannada:
 Ulinannil
.
---
Habit- Small trees ca. 10 m tall.
Trunk\bark- Bark dark brown, irregularly scaly; blaze pinkish.
Branchlets- Branchlets terete, tomentose when young, later glabrous.
Exudates- Latex milky white, profuse.
Leaves- Leaves simple, alternate, spiral; stipules in pairs, lateral, caducous and leaving scar; petiole 0.6-2 cm long, planoconvex in cross section, glabrous; lamina 7-25 x 2.5-6.5 cm, usually oblanceolate to narrow-obovate, sometimes narrow oblong, apex rounde
Flowers- Flowers yellowish-white, in axillary fascicles; pedicels ca. 0.8 cm long.
Fruit& seed- Berry, fleshy, ellipsoid, beaked; seed one, brown.
Common along streams and rivers up to 1200 m.
India and Sri Lanka; in the Western Ghats- South and Central Sahyadris.
(Attributions- B. R. Ramesh, N. Ayyappan, Pierre Grard, Juliana Prosperi, S. Aravajy, Jean Pierre Pascal, The Biotik Team, French Institute of Pondicherry.
---
This rare species turned up in only four localities in Kalutara and Ratnapura during the comprehensive forest surveys conducted for the recent National Conservation Review.
Citation:
World Conservation Monitoring Centre 1998. Madhuca neriifolia. The IUCN Red List of Threatened Species. Version 2014.3. <

www.iucnredlist.org

>. Downloaded on 19 January 2015.
.
---
Hebri, Karnataka
27th December 2014
Small tree growing by the side of a stream.
---
Never seen, not reported from our area.. thanks …, hope the id gets validated..
---
Any gross feature which distinguishes this from other
Madhuca
sp.
Any meaning pertaining to flower?
---
Seem to match as in Biotik
---
The plant resembles to Madhuca nerlifolia
Date
:

27 DEC 2014
… 
Altitude
:

about 80 m asl
---
Family: Sapotaceae
Date: 9th January 2014
Place: Aralam Wildlife Sanctuary
Habit: Medium sized tree
Habitat: several trees were found growing on the bank of a stream
Identified by: …
---
.
---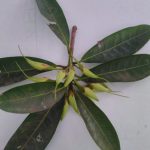 I'd pls: ernakulam kerala 211021JB2
: 1 image.
Segregating post clubbed due to same subject
from …:
I'd pls location
ernakulam kerala
---
Madhuca sp. resembles M. longifolia
---
I concur with … It is seen in Mysore in many places
---
Can it be Madhuca diplostemon (C.B.Clarke) P.Royen ?
Or is it Madhuca neriifolia (Moon) H.J.Lam only as per Biotik.
---
Madhuca neriifolia, but I think M neriifolia and M malabarica represents two different entities. Madhuca neriifolia is a Sri Lankan endemic and M malabarica is a south indian endemic. Now M malabarica is considered as a synonym of M neriifolia.
---
.
---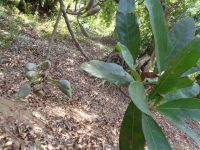 ID KZD 08/20/02/23: 1 very high res. image.
Please identify this small tree from Kannur district of Kerala.
---
Pl. check M.neriifolia:
https://efloraofindia.com/2015/01/19/madhuca-neriifolia/
I feel it is close.
---
---
.
References:
POWO  Catalogue of Life The Plant List Ver.1.1  WCSP  Flowers of India  Flora of Peninsular India  India Biodiversity Portal  IBIS Flora  Biotik  Wikipedia  IUCN Red List (EN)