---
Very hard to say.  Just one VERY POOR image. Is it the fruits or gone-over flower which is thought MIGHT be Callianthemum?
Yet again, no location, altitude or month is provided.
The foliage seen is certainly NOT Callianthemum.
MUCH better and MANY more photos required, with good close-ups of flowers or fruits and foliage are required to be in a position to comment meaningfully.
Cannot justify devoting any more time to it.
---
.
---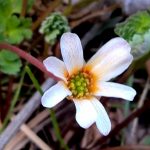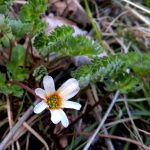 id request: seems different from Gagea: 2 images- one high res.
please check the attached image. It seems different from Gagea in respect to leaves and the arrangement of anthers around the stigma.
Captured at Badrinath UK
June 2018
---
Not Gagea at least !
---
Genus is confirmed, it matches with Callianthemum.
please validate, highly thankful.
---
Callianthemum pimpinelloides (D.Don ex Royle) Hook.f. & Thomson! 
---
Keys can be seen in Flora of Pakistan, based on petal apex.
---
.
References:  
POWO  The Plant List Ver.1.1  Flora of China  FOC illustration Flora of Pakistan  Annotated checklist of Flowering plants of Nepal India Biodiversity Portal  IBIS Flora  Herbarium Catalogue  GBIF– specimen 1  Phyto images  Flowers of India
http://www.kun.ac.cn/plant/index/show/id/1697
https://www.biolib.cz/en/image/id238593/
https://www.plantes-botanique.org/espece_callianthemum_pimpinelloides