---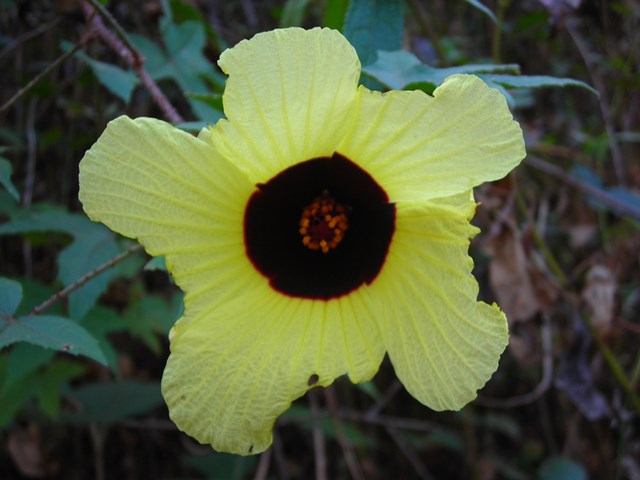 Malvaceae Fortnight:: Hibiscus Sp.?? NSJ 14 : 4 posts by 3 authors. Attachments (2)
Hibiscus sp from Amboli. Pl validate.
---
Hibiscus species in eFloraofindia (with details/ keys from published papers/ regional floras/ FRLHT/ FOI/ Biotik/ efloras/ books etc., where ever available on net) 
---
Pl send the photographs of the leaves also for ID.
---
Unfortunately these are the only photographs available with me.
---
It might belong to the Hibiscus surattensis – H. aculeatus group. More details should help confirm the ID.
---
Hibiscus surattensis L. ???
---
But details are not clear.
---
OK … !
---
.
---
---
Looks like one of the wild species of  Hibiscus or Abelomaschus.  Certainly it is a member of the Malvaceae .
---
Could this be H hispidissimus or H surattensis?
…, can u please post some more pics?
---
I  am sure it is not H.surattensis.
 I have seen 
H.surattensis
.
---
Looking at the leaves, this looks like the rare and endangered plant,
Lobed Leaved Mysore Mallow (
Decaschistia trilobata
) from
Malvaceae
family.
Flowers of India
---
I think this is a Hibiscus species.(H. furcatus or H. surattensis?)
---
Here is the link to the original thread:
efi thread
But details are not clear.
---