Common name: Sprawling Rattlepod
Australia; Bhutan
;
India
– Andhra Pradesh, Himachal Pradesh, Karnataka, Kerala, Madhya Pradesh, Maharashtra, Manipur, Meghalaya, Nagaland, Rajasthan, Sikkim, Tamil Nadu, Uttar Pradesh, West Bengal;
Myanmar
;
Nepal; Thailand
(as per
GRIN
)
---
Prostrate herb; stem villous. Leaves to 5 x 3.5 cm, ovate, obtuse, pubescent, petiolate; stipule filiform. Raceme axillary, 6-12 cm long, peduncled. Flowers 5-10; pedicels 5 mm long; bracts and bracteoles filiform; calyx 6 mm long, lobes equal, densely fulvous hairy; standard 5 x 3 mm, obovate; wings 4 x 2 mm, oblanceolate; keel glabrous. Pods to 7 x 3 mm, oblong, glabrous.
Flowering and fruiting: October-May
Grasslands and deciduous forests
India, Nepal, Myanmar and Malaysia
(Attributions- Dr. N Sasidharan (Dr. B P Pal Fellow), Kerala Forest Research Institute, Peechi from
India Biodiversity Portal
)
---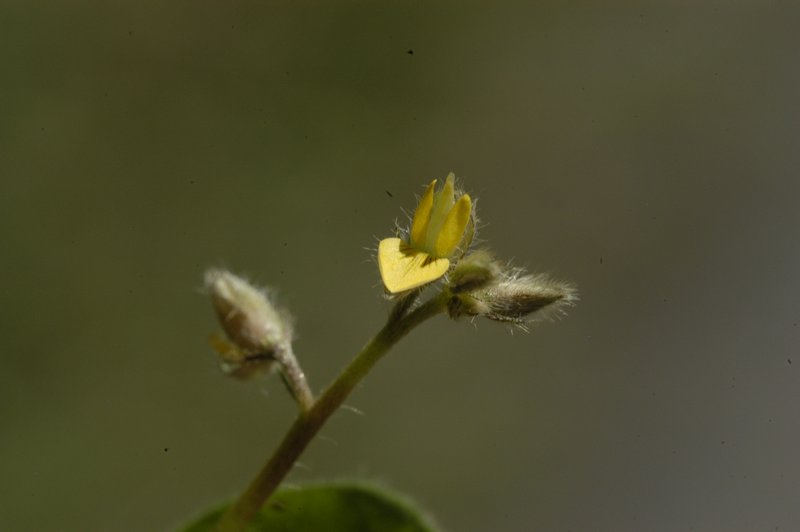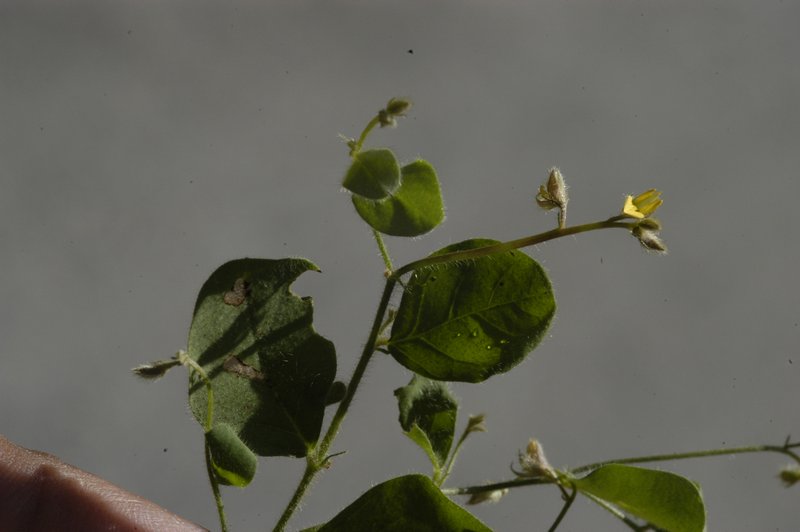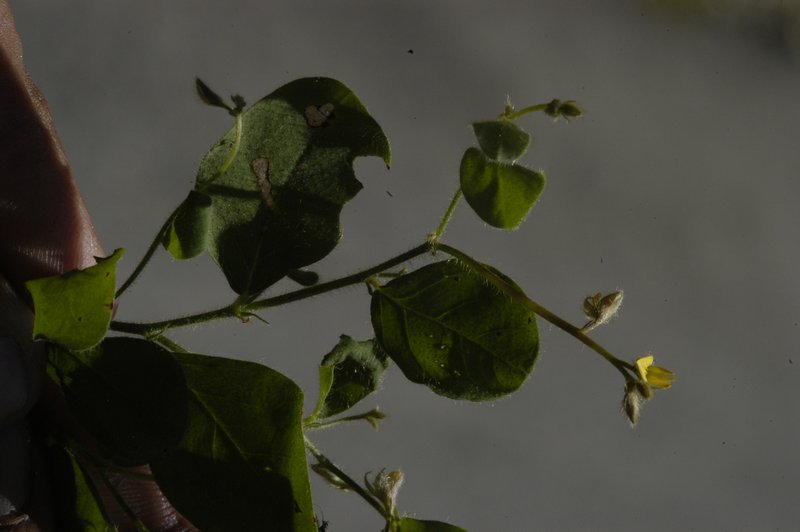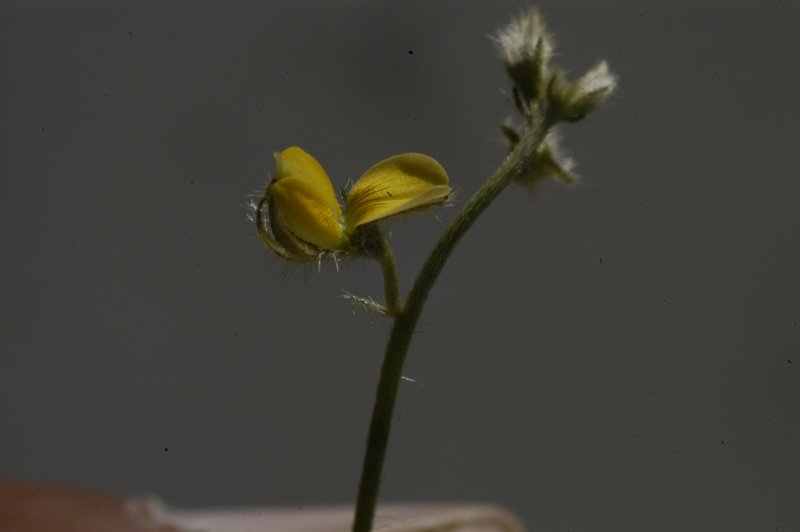 Fabaceae (Faboideae) Fortnight :: Crotalaria sp.?:: Gori valley :: NS OCT 18/18 : 6 posts by 4 authors. Attachments (5)
Please suggest specific id for this
Crotalaria
, recorded from Gori valley area…
---
Crotalaria species in eFloraofindia (with details/ keys from published papers/ regional floras/ FRLHT/ FOI/ Biotik/ efloras/ books etc., where ever available on net)
---
Please check for C.humifusa.
---
To me also it matches with Crotalaria humifusa. 
(More or less similar description of
Crotalaria rotundifolia
is not reported in India, Pakistan and China.)
---
Please compare with kew specimen to conclude ID.
---
Location
: Chobhar Height, Kathmandu
 , Nepal
Nepali Names:
Chheke 
सानो बोक्सीबाजा Saano Boksi Baajaa  / सानो छेके Saano
---
Yes Sir.
Crotalaria prostrata
Wild is an accepted name as per 'the plant list'.
---
I think does not match with images at Crotalaria prostrata
Pl. check with images at
Crotalaria filipes
---
I guess it is not matching according to leaves also.
Besides, it is not listed in Nepal.
Request for further opinion.
---
I will go with Crotalaria humifusa Benth.
---
---
Sprawling Rattle pod is found from Himalayas from Kumaon to Sikkim at  altitude of 1800 -1900 m. As per the information provided the specimen was recorded in Sikkim at altitude of 4600 ft (1402 m).
---
Crotalaria humifusa Benth.
---
I get some confusion. Legumes are alternate whereas net images showing single legumes at nodes for both
C.prostrata
and
C. humifusa
.
Also CoL showing 4
C. prostrata
but POWO and GBIF only one.
---
I am not clear what are you saying. Pl. also give the links.
---
My post showing 2 opposite legumes at one node nut net images showing 
single legume at one node. Also CoL showing 4sp. of C. prostrata but POWO and GBIF only one.
---
Yours also show only one legume except at one point. Pl. see your 6th image.
---
OK …!
---
Fabaceae (Faboideae) Fortnight: Desmodium sp. – 1 from Meghalaya 14 OCT15 : 5 posts by 4 authors. Attachments (5)
Attached images are Desmodium sp. – 1 from Meghalaya. Please ID the plant
---
This may be Crotalaria prostrata …
---
---
Location:  Dahachowk, Switzerland Park, Kathmandu,,Nepal 
Habit : Wild 
---
---
Thank you Saroj for pointing it out. Crotalaria prostrata auct. non Rottb. is a synonym of Crotalaria humifusa, and it has been corrected now:
Crotalaria prostrata Willd. is another species:
Location: Chobhar, Kathmandu, Nepal

Date: 14 September 2020

Elevation: 1340 m.

Habit: Wild
References: