Capsicum chinense x Capsicum frutescens;
Common name:
 Tezpur Chilli • 
Hindi

:
राजा मिर्चा Raja mircha • 
Manipuri

:
ꯎꯃꯣꯔꯣꯛ Umorok, Oomorok • 
Bengali

:
নাগা মরিচ naga morich • 
Assamese

:
নাগা জলকীয়া naga jolokia • 
Mizo

:
Saphmarcha
---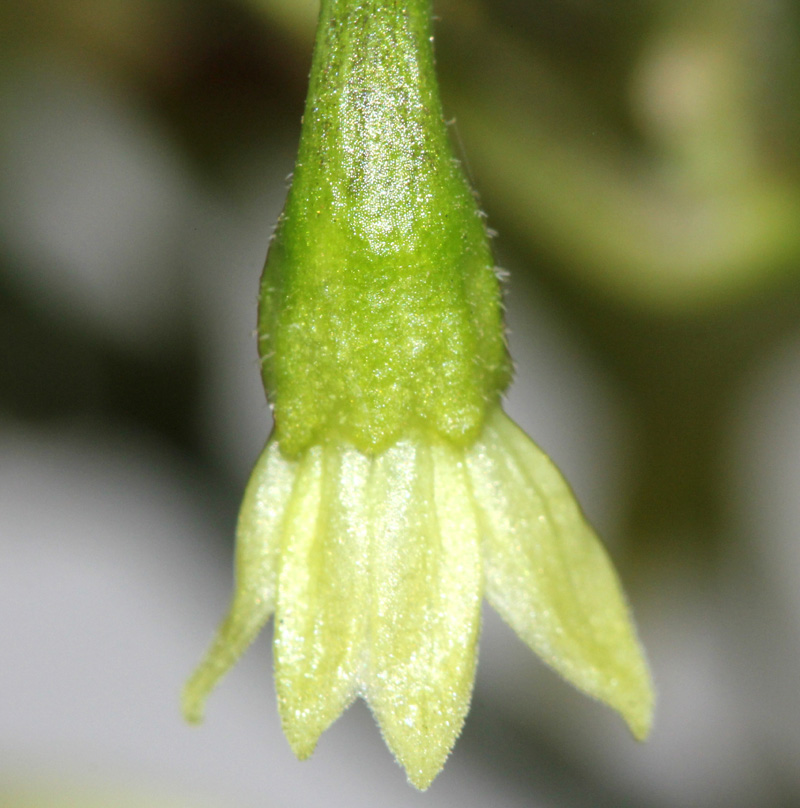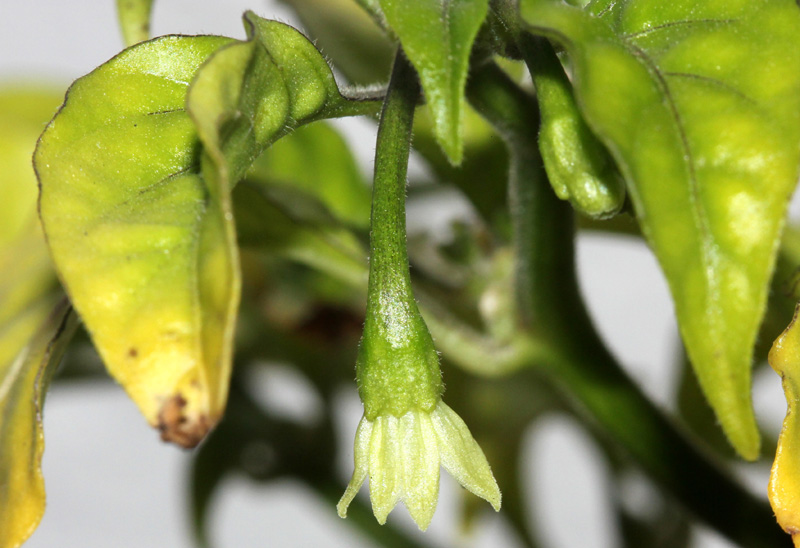 Capsicum assamicum, Bhoot Jolokia, Ghost pepper from Fremont, California-GSJUL2016/09
: 2 posts by 2 authors.
Capsicum assamicum
Hottest pepper in the World

, Bhoot Jolokia, Ghost pepper was earlier considered as hybrid between C. frutescens and C. chinense, but decsribed as independent species in 2012
The species is differentiated by its prfusely branched habit, two flowered clusters, yellow green corolla, orange red conical fruit with dented surface when mature.
We have purchased the plant from local nursery here
in Fremont California
last week, the plant is adjusting slowly. I will upload photographs of fruit when mature.
Here is flower and branch.
---
Thanks, …, for this wonderful post.
---
Location: Kalimpong, WB, India
Bhoot Jolokia !!!
---
As cultivated capsicum species have so many cultivars, you have to decide.
As you stated 
Bhoot Jolokia
, pl. check 
Wikipedia
.
---
This has been told by the nursery owner !
---
---
Bhut Jalokia, Ghost pepper, Bhutanese Chilli, often considered as hybrid between C. chinensis and C. frutescens, Flora of Assam treated it under C. chinensis, has been recognised as distinct species Capsicum assamicum

 J.Purkay. & Lok.Singh, 2012.

 

Catalogue of life treats it accepted name.
It was once considered as hottest pepper with 

Scovelli Heat Unit (SHG) of 1,041,047, subsequently overtaken by Naga Viper pepper

 (1,382,118 SHG) in 2011, overtaken by Carolina Reaper (1,641,183 SHG) in 2017.
Photographed 

from Osh Hardware Store Nursery, Fremont, California, 17-7-2016.
---
Interesting, thanks for the upload Sir…
Flowers are innocent.. with no signs of devil..!!
---
a tray full of red chillies was drying in the sun just outside khichupudi lake, sikkim
november 2010
–  It may be C. chinense, C. frutescens.
Naga Jolokia—is a chili pepper recognized by Guinness World Records as the third hottest pepper in the world. The pepper is typically called the ghost chili or ghost pepper.