Berberis
wallichiana
DC.,
Prodr. 1: 107 1824
. (syn:
Berberis asiatica
Griff.;
Berberis atrovirens
Wall. ex G. Don;
Berberis atroviridis
Wall. ex Steud.;
Berberis griffithiana
var.
pallida
(Hook. fil. & Thomson) D.F. Chamberlain & C.M. Hu;
Berberis horrida
Jungh.;
Berberis macrophylla
hort. ex Lindl.;
Berberis wallichiana
var.
atroviridis
Hook. fil. & Thoms.;
Berberis xanthoxylon
Hassk.) as per
Catalogue of Life
;
India (Meghalaya), Nepal, Bhutan, China, Myanmar [Burma] (Chin, Kachin, Shan), Vietnam
 as per
Catalogue of Life
;
---
Spiny evergreen shrub, about 2-3 m tall. Stem subterete or subangled, grey, glabrous, branches sharply terete, internodes short, about 3-4 cm long, spines short, 2-3 fid, about 1.5-3 cm long. Leaves arranged about 3-6 in a node, lanceolate-oblong, 3-12 x 0.8-2.8 cm across, base cuneate, margin subserrate with small 9-21 spinules, apex acute with mucronate tip, chartaceous, subcoriaceous, shining, with thick hypoderm, dark green, glabrous or sublustrous above, paler beneath, lateral veins 6-12 on either side of the midrib, impressed above, prominently veined on the midrib beneath, petiole subsessile or about 2-3 mm long. Inflorescence axillary, fascicled, 10-20 flowered. Flowers bisexual, yellow, about 5-8 mm across, pedicels stout, about 6-10 mm long, sepals 6, in 2 series, outer series smallest and inner series largest, outer series 3, oblong-obovate, apex acute, about 3 x 1.5 mm across, inner series longer, obovate, about 4.5 x 3 mm across, petals 6, obovate base grandular, clawed with separate glands, margin entire, about 5 x 2.5 mm across. Stamens 6, free, about 3.5-4 mm long, anthers opening by 2 recurved valves, ovary simple, oblong, ovules solitary, stigma subsessile. Fruits are several seeded berries, obovoid-ellipsoid, glabrous, purplish black when ripe, about 8-10 x 4-5 mm across, stylose.
Forests, altitude about 1700-3300 m.
Global Distribution- Asia: Bhutan, India, Nepal.
Local Distribution- Arunachal Pradesh, Assam, Meghalaya, West Bengal.
(Attributions- Ganeshaiah, K. N., UAS, Bangalore, India.; Kailash, B. R., ATREE, Bangalore, India.; Royal Norwegian Embassy grants. Indian Bioresource Information Network (IBIN), Department of Biotechnology, New Delhi, India.)
.
Enclosing some pictures of
B. insignis
shot
at an altitude of 9000 ft on the way to Kalinchowk Nepal on 26 July 2014.
---
Is this a new addition to the efi ?
---
Yes, it should be.
---
Forwarding for Validation pl. being the first post in efi.
Although I think seems to match with mages at
---
These I think are Berberis wallichiana DC.
---
For me it also looks like B. wallichiana.
---
---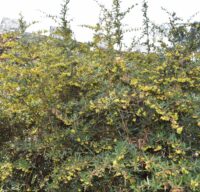 Fwd: Id requested : 5 posts by 4 authors. Attachments (1)- 5 MB.
Berberis sp?
---
Looks like Berberis wallichiana DC., but images not so clear.
---
Looks close to Berberis wallichiana DC.
---
---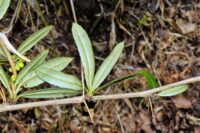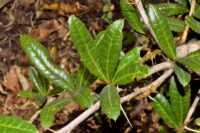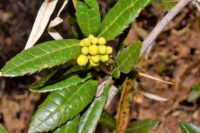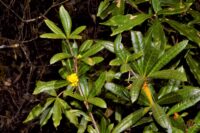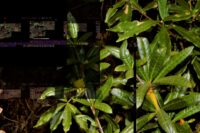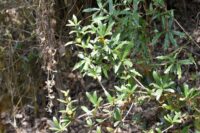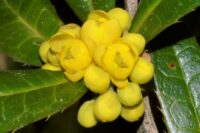 Berberis wallichiana DC. : 8 posts by 3 authors. Attachments (8)- 1 Mb each.
Location: Shivapuri National Park, Nepal
Habit : Wild

Nepali Name : 
बाह्रमासे चुत्रो
Baarhamaase Chutro
---
---
Yes, It is Berberis wallichiana.
---
---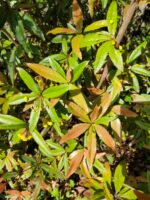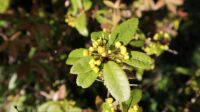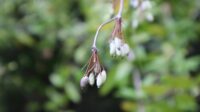 Plant ID please.
:
Name:
Berberis
sp. ??
Location: Arunachal Pradesh.
---
I think Berberis wallichiana DC.
---
---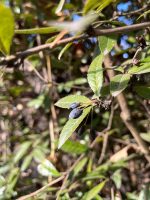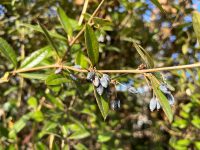 Plant ID please 181222 MB2: 2 high res. images.
Location: West Kameng, Arunachal Pradesh
Please check Berberis wallichiana DC. !
---
Yes, the following is possible:
https://efloraofindia.com/2017/06/08/berberis-wallichiana/
Experts may kindly confirm or otherwise pl.
---
---
.
References:
Catalogue of Life  The Plant List Ver.1.1  IPNI GBIF (with type specimen) Tropicos  Annotated checklist of Flowering plants of Nepal  India Biodiversity Portal  Wikispecies  PFAF  Plant illustrations  Useful Temperate Plants