Common name: Assam Raspberry • Assamese: Soh-chiria, Soh-nybal
China (Guangxi, Guizhou, Sichuan, Yunnan), Tibet,

NE-India,

NE-Burma (Chin, Kachin), Vietnam
as per
Catalogue of Life;
---
Can it be Rubus paniculatus?
---
Most likely to be Rubus assamensis. These are without petals. Other characters that are observable seem to suggest it.
---
Thanks a lot …, yes, it matches with Rubus assamensis, I hope it is new addition to eFI..
---
.
---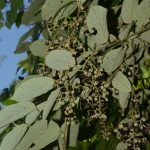 MS,May, 2022/13 Lonicera sp. ? for id.: 1 very high res. images.
Location : Lurh tlang,.  Mizoram
This looks like Rubus paniculatus Sm.
---
Looks like
Rubus
sp…
Leaves doesn't matched to R. paniculatus indeed looks like R. pedunclosus
---