Cremanthodium indicum
D.Borah, R.Kr.Singh & Thungon,
March 2021

Biodiversitas Journal of Biological Diversity
22(3):1272-1276;
Thanks, …  Pl. check comparative images in efi site.
---
Does not match any species so far in
efi
---
Reply from … since his gmail is not functioning!
1 Facebook screenshot
---
Yes, it is.
---
.
---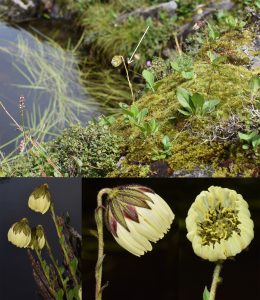 New additions to efloraofindia
Attaching here three species for inclusion in efloraofIndia.
1 pdf-590kb and 1 image
---
.
---
Posted in 2017 and published as new species in 2021
This was posted by Dipankar ji in 2017 as at Cremanthodium for id. Arunachal Pradesh 26.7.17
He also published the same in 2021 as per details at 
Cremanthodium indicum
This again highlights that many new species are posted here before these getting
---
Congratulations to Dipankar ji and his co-authors. A great boost to the spirit of efloraofindia.
---
---
.
References:
Cremanthodium indicum (Asteraceae, Senecioneae), a new species from the Eastern Himalaya, India – March 2021 Biodiversitas Journal of Biological Diversity 22(3):1272-1276 (Abstract- Cremanthodium indicum D.Borah, R.Kr. Singh & Thungon (Asteraceae, Senecioneae), a new species from Eastern Himalayan state Arunachal Pradesh, India is described and illustrated. The new species is allied to Cremanthodium nobile (Franch.) Diels ex H.Lév. in having elliptic-obovate basal leaves, solitary, nodding capitula and hemispheric involucre, but differs by densely pale yellow tomentose stem, stem leaves 5-9, 1.6-2.1 cm distant, outer phyllaries 2.3-2.8 mm wide, inner phyllaries elliptic, 3-5 mm wide, apex acute, ray lamina creamy, oblong, 2-2.3 cm long, apex truncate, distinctly 3-dentate, ray tube 1.5-2 mm long, tubular florets creamy, 8-9 mm long and pappus 6-8 mm long.)