Crassula multicava Lem., Ill. Hort. 9(Misc.): 40 1861. (syn:
South Africa (E-Cape Prov.), Azores (introduced) (Santa Maria Isl. (introduced), Sao Miguel Isl. (introduced), Graciosa (introduced), Sao Jorge (introduced), Pico (introduced), Faial (introduced), Flores Isl. (introduced)), Madeira (introduced) (Madeira Isl. (introduced)), Canary Isl. (introduced) (Tenerife (introduced), La Gomera (introduced), Hierro (introduced), La Palma (introduced)), Hawaii (introduced) (Kauai (introduced) (Waimea Canyon) (introduced)), Australia (introduced) (New South Wales (introduced)),

India (introduced),

USA (introduced) (California (introduced))
as per
Catalogue of Life;
---
Requesting to please provide ID of the plant captured
at Ooty

Bot. Gdn.

in November 2013.
It was found growing on a tree.
---
i just do not know any round leaved crassulaceae plant that has such inflorescence…
may be a portulaca?
---
Attaching some cropped pics of the flowers and leaves…
---
It is Kalanchoe sps.
---
yes that is a distinct possibility
i have been searching my brains out for 4 petaled flowers of succulent leaved plants … but the growth habit of the stalk throws me
it may be the place and where/ how its growing…
Kalanchoe sp. is definitely a good fit
I wonder what would it do and develop as if planted if a cutting or even a leaf were to be transplanted in a well drained sandy soil, like any old kalanchoe?
---
Unfortunately, a year before the tree where you have clicked the pictures fall down on glass house and it is under renovation. 
The good thing is, we are able to locate the same plant in a rock garden, and along the Ghat side towards Canoor, apparently it is naturalized. 
A further search revealed the plant is listed in the checklist of Ooty Botanical Garden and Flora of Tamil Nadu as Crassula quadrifida (Crassulaceae). It is a synonym of Crassula multiclava and probably from South Cape. How it has been introduced is unclear!. It is a beautiful plant.
---
.
---
Requesting to please ID this orchid captured
in Ooty Botanical Gardens in November 2013.
My first sighting of a wild orchid.
---
It doesn't seem like an Orchid to me.
---
This is a Crassulaceae (stonecrop) member.
---
It may be Kalanchoe sp. of crassulaceae
---
Crassula multiclava as per another thread.
---
.
---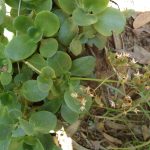 identified plant:   I was taken this plant nilgiris western ghats please id this plants.
---
Saxifragaceae by any chance?
---
i think this is kalanchoe
---
Flowers are spreading, could be Sedum.
---
while i am searching for this tree i found this page please watch this
---
Location:  Godawari, Nepal  
---
Checked earlier but did not find match.
---
Ok
---
I could not find a match at
---
Appears to be Crassula multicava
---
I do not think matches with images of Crassula multicava as per the following:
---
Yes, it is something else but could not recall the name !
---
Resurfacing once again for validation.
---
Crassulaceae for id 280411MK2: Kindly help me to id this herb commonly seen in Kotagiri and Ooty, Nilgiris. Is this Kalanchoe floribunda?
Date/Time-

09-04-2011 / 04:30 PM

Location- Place, Altitude, GP

ca.2000asl; Kotagiri, TN

Habitat- Garden/ Urban/ Wild/ Type-

garden

Plant Habit-

succulent herb

Height/Length-

20-30 cm long

Leaves Type/ Shape/ Size-

ca.6 x 5 cm

Inflorescence Type/ Size-

terminal raceme; 10-15 cm long

Flowers Size/ Colour/ Calyx/ Bracts-

0.5-1 cm across
---
Crassula multicava  ??
---
Yes, appears close as per Crassula multicava
---