Assam to Thailand
as per
WCSP
;
---
Shrub about 6-8 ft tall. Short stemmed glabrous, branches and branchlets slender, obtusely quadrangular, furrowed, glabrous when mature, nodes annulate. Leaves simple, opposite, elliptic-lanceolate, obovate-elliptic, 6-16 x 3-8 cm across, base acute or cuneate, margins serrate dentate, apex acuminate, chartaceous, dark green, glabrous above, slightly paler yellowish pubescent beneath when young, glabrous when mature, lateral veins 4-7 on either side of the midvein, ascending, arcuate, veins impressed above and prominent beneath, petiole slender, stout, quadrangular, glabrous, canaliculated about 0.4-0.7 cm long, exstipulate. Inflorescence axillary, terminal corymbs, composed of 4-8 opposite cymes, pubescent, about 4 x 6 cm across, peduncles quadrangular, 1-2 cm long, bracts subulate or linear, about 3-4 mm long. Flowers bisexual, many, greenish yellow, cream white, pedicels about 3 mm long, calyx cupular, 5 toothed, teeth obtuse, apex acute, pubescent outside, about 3 x 3 mm across, corolla infundibular, 4 lobed, 2 lipped, white, lobes ovate to oblong, apex obtuse, 3 x 2 mm across, corolla tube narrow, densely pubescent at the throat, glabrous outside, about 3-4 mm long, stamens 4, didynamous, slightly exserted, filaments glabrous, filiform, about 1.5-2.5 mm long, anthers globose, 2 loculed, about 0.5 mm long, ovary obovoid or subglobose, about 1 x 1.5 mm across, style slender, filiform, about 2.5 mm long, stigma bi-lobed. Fruit drupaceous, obovoid, about 3 mm in diameter, smooth, purple, fruiting calyx cupular, 5 lobed, membranous.
Local Distribution: Andhra Pradesh, Assam, Manipur, Mizoram, Tamil Nadu, Tripura, West Bengal. Global Distribution: Asia: Bangladesh, India, Myanmar, Thailand.

(Attributions-
Ganeshaiah, K. N., UAS, Bangalore, India. Kailash, B. R., UAS & ATREE, Bangalore, India. Indian Bioresource Information Network (IBIN), Department of Biotechnology, New Delhi, India from
India Biodiversity Portal
)


.
Location : Hlimen
Date : 29-04-2017
Habit :Shrub or Undershrub
Habitat : Wild
Mizo name : Leidum or Vawngser
---
Appears to be Premna, but images of close ups of flowers and fruits are required.
---
It is Premna esculenta Roxb.
---
It's Premna esculenta. And the Mizo name is Lei-dum
---
May I request you to pl. send close up of fruits to see the calyx.
---
Thanks, … To me also appear close to images of Premna esculenta at
Premna esculenta taken on 26/05/2018
1 image.
---
---
Location: 12 Mile, Kalimpong, India
---
Very vague to guess for me, however, can I take chance with 
Premna integrifolia
L.

???
---
efi page on
Premna serratifolia
 (syn:
Premna
integrifolia
L.)
Premna
species in eFloraofindia (with details/ keys from published papers/ regional floras/ FRLHT/ FOI/ Biotik/ efloras/ books etc., where ever available on net)
---
Can it be Premna integrifolia ?
---
Looks like matching with P. integrifolia.
The plant list says P. serratifolia is synonym of P. integrifolia.
But does not look like matching with
P. serratifolia
.
Link
---
ID validation still pending. If anyone could help ?
link
---
To me appear close to images of Premna esculenta at
---
---
Yes … Seems correct , finally!
Premna esculenta Roxb.
---
.
---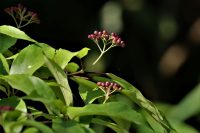 Seeking Identification: 2 images.
I have attached 2 nos of plant photos for identification, i took these plant pictures during my field excursion to Southern Bhutan at Sarpang.
---
Habitat and leaf images ?
---
Thank you for your response, This tree was medium size tree and usually found in dry places where the Chromolaena odorata and under teak forest.
i am sorry i could not take the leaves images
i will send here next time if i happen to visit this places.
---
Leave photos attached here!
---
Are you positive the leaves in pic 3 belong to the same plant as 1 and 2… which shows opposite leaves all down the branch.
pic 3… The arrangement appears to be different.
---