---
Shrubs, 2-3 m tall; branches and branchlets glabrous or thinly puberulent. Petiole 6-10 mm, glabrous or sparsely puberulent; leaf blade leathery, elliptic to elliptic-lanceolate, 10-20 × 2.5-6 cm, glabrous adaxially, glabrous or sparsely puberulent abaxially, base acuminate, apex acuminate; lateral veins 6 or 7 pairs; nervules parallel; nerves and nervules conspicuous abaxially; stipules persistent, triangular or ovate-lanceolate, 3-5 mm, glabrous, leathery. Inflorescences sessile, glomerulate; bracts persistent, orbicular or ovate-orbicular, 3-6 mm, thickly leathery, glabrous or pubescent. Flowers sessile. Calyx puberulent; hypanthium portion ca. 1 mm; limb 5-lobed; lobes ovate-lanceolate. Corolla ca. 10 mm, puberulent outside, villous inside. Fruit red, ovoid, ca. 10 mm, glabrous; pyrenes 5.
Montane forests, shaded and wet places; 1000-1800 m.
E Bangladesh, Cambodia, NE India, Indonesia (Java, Sumatra), Thailand, Vietnam
(Attributions- Compiled from secondary sources listed in references by Kishor Deka for the Assam Biodiversity Portal project from
India Biodiversity Portal
)
---
---
Kindly chk Lasianthus spp 
---
What are the species of
Lasianthus
 found in your area ?
---
Lasianthus spp. found in Mizoram are : Lasianthus biermannii, L.hookeri, L.lucidus & L.tubiferus.
---
After perusal of these species, mainly in Flora of China as per given links, I think it is more closer to
Lasianthus inodorus
 syn.
Lasianthus tubiferus
---
Location : Dampui, Mizoram
Date : 03-05-2016
Habit : Undershrub ?
Habitat : Wild
---
Though I am unable to identify most of your uploads, but I really appreciate your consistency and the vast collection you are having. More than that you are sharing the plant wealth from the area which is not much represented on efI…!!
---
Species of Lasianthus of Rubiaceae family
---
Thanks, …, for helping us with Ids.
---
Lasianthus species so far in efi 
---
This is Lasianthus sp.
---
Unable to proceed any further. The specified characters mentioned in the keys of flora are not fully visible in the photograph here…
---
---
---
---
---
Lasianthus inodorus Blume ??
---
---
MS,Jan.,2021/20 Lasianthus sp. ? for id.: 1 image.
Location : Ailawng
---
What are the keys ?
---
---
Fruits may finally decide as per keys. Till then, we keep it as Lasianthus inodorus as per images and details herein.
---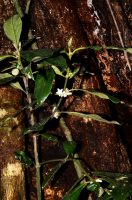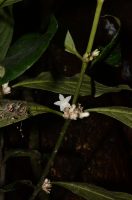 MS, July, 2023/01 Lasianthus sp. for id.
:
Location : Reiek tlang, Mizoram
https://efloraofindia.com/2012/07/29/lasianthus/

Appears close to images at
https://efloraofindia.com/2018/07/20/lasianthus-inodorus/
---
---
.
References:
Catalogue of Life  The Plant List Ver.1.1  WCSP  IPNI  Flora of China  FOC illustration  Sumatra database  India Biodiversity Portal  IBIS Flora