Piper lonchites Schult., Mant. 1: 241 1822. (syn: Piperi lonchitum (Schult.) St. Lag.);
Assam, Malaya
as per
POWO
;
---
---
Piper lanceaefolium by chance ?
---
Piper sylvaticum ?
---
---
this case- its not very clear in enface kinda picture, but i can make outa strong mid vein, and two almost parallel side veins , one on each side and faint thin veins hugging the periphery of the leaf.
in the neotropic site leavesveins are in a true "tree branching" like pattern a strong mid vein and side shoots coming out sequentially, moving axially.
in neither case we know the size of the leaves, but the venation is quite distinctive.
so our case here is not Piper lanceifolium.

thanks for the link.

everybody should visit this neotropical flora site at Arizona State univ site for many 
of our tropical collections, great data
---
It is Piper lonchites Roem & Sch.
---
MS,Nov.,2021/46 Piper sp. for id.
: 3 images.
Location : Tamdil
Habit : Perennial climber ?

Habitat : Wild
---
It is being identified long as Piper lonchites Roem & Schult. A male plant.
However I am working on it now and very soon I will let you know about its true identity.
But it is an erect species till recorded from Arunachal, Manipur, Meghalaya and Mizoram.
---
---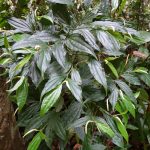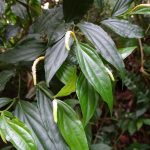 MS,April, 2022/23 Piper sp. for id.: 2 images.
Location : Dampui forest, Mizoram
Altitude : 800 – 1,000 m.
---
Please check Piper lonchites Schult. !
---
Yes, appears close to images at Piper lonchites
---
Yes it is being identified although as P. lonchites, now I am now resolving it nomenclatural issue.
---
---
,
References:
Catalogue of Life  The Plant List Ver.1.1 (unresolved) IPNI   POWO  GBIF (specimens)