Gelsemium sempervirens (L.) J. St.-Hil., Expos. Fam. Nat. 1: 338 1805. (syn: Bignonia sempervirens L.; Gelsemium lucidum Poir.; Gelsemium nitidum Michx.; Jeffersonia sempervirens (L.) Brickell);
USA (Alabama, Arkansas, Florida, Georgia, Louisiana, Mississippi, North Carolina, South Carolina, Tennessee, Texas, Virginia), Guatemala, Mexico (Chiapas, Guerrero, Hidalgo, Jalisco, Michoacan, Nayarit, Oaxaca, Puebla, Queretaro, San Luis Potosi, Sinaloa, Sonora, Tabasco, Tamaulipas, Veracruz), Honduras, Australia (I) (New South Wales (I), Queensland (I))
as per
Catalogue of Life

;
---
Flowers and buds look like miniature Allamanda, but the leaves are different.
A reply I got from their email indicates Winter Jasmine, Jasminum nudiflorum.
But to me it looks different, not from Jasmine family.
Experts kindly help in finding the correct id.
Could be Apocynaceae or Bignoniaceae. Not too sure.
---
This could be Gelsemium sempervirens of Gelsemiaceae.
Commonly called Carolina yellow jasmine.
---
Thanks for suggesting the id. Does look like it.
---
Thanks for the suggested id. Initially I thought of
Allamanda
too.
But … suggested 
Gelsemium sempervirens 
of Gelsemiaceae which looks closer.
---
.
---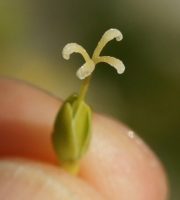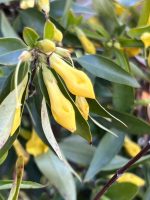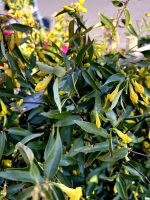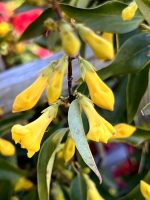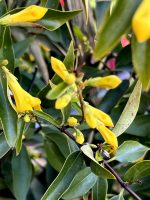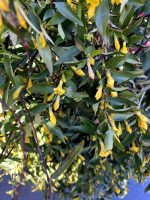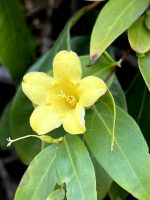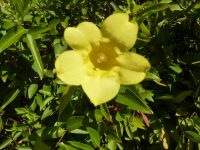 Gelsemium sempervirens from California-GS19042023-1: 8 images- 6 very high res. images.
Gelsemium sempervirens (L.) St. Hill., a twining vine of Gelsemiaceae with lanceolate leaves and yellow trumpet-shaped flowers in clusters.
Photographed from Fremont, California.
---
The genus Gelsemium is easily identified by its 4-cleft style and 4 stigmas. Here are an open flower and part of flower showing stigmas from another population from Sunnyvale.
---
Yes, appears so as per images and details at
https://efloraofindia.com/2018/12/09/gelsemium-sempervirens/
---