Iran (S-Iran), Afghanistan (Kunar / Nuristan, Paktia / Khost), Pakistan (Baluchistan, N.W.Frontier Prov., Pakistani Punjab, Swat, Hazara, Murree, Rawalpindi, Jhelum),

Jammu & Kashmir (Kashmir), NW-India (Himachal Pradesh, Uttar Pradesh, Punjab), Nepal
as per
Catalogue of Life;
Common name:
Pointed-Leaf Jujube •
Hindi
: बेरी Beri
.
Here's one new Rhamnaceae addition to our site.
Ziziphus oxyphylla Edgew.
Family – Rhamnaceae
This

small spiny tree

is native to temperate areas of Western Himalayas found at 1100meters altitude and above.
Photographed
at Bajaura, Kullu District, Himachal Pradesh.
Altitude – 1100meters asl.
Flowering images photographed in June 2017.
Fruiting images in November 2018
---
Thank you … for this upload. It identifies one of my old picture of fruiting specimen from Tehri Garhwal. Nice images of all stages.
---
.
---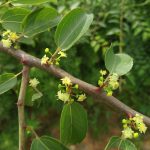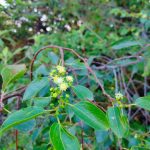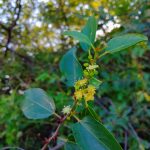 Ziziphus oxyphylla: 3 high res. images.
Location:Rajouri j and k
If you have more images, pl. post.
---
Location: RAJOURI J AND K
2 high res. images.
---