Lysimachia
clethroides
Duby,
Prodr. 8: 61 1844
. (syn:
Bernardina
clethreides
(Duby) Baudo
;
Lysimachia clethroides
var.
crassifoliosa
Konta;
Lysimachia clethroides
var.
sororia
(Miq.) Kunth;
Lysimachia ephemerum
Thunb. (ambiguous synonym);
Lysimachia sororia
Miq.);
Netherlands (I), Russian Far East, China (Fujian, Guangdong, Guangxi, Guizhou, Hainan, Hubei, Hunan, Jiangsu, Jiangxi, Liaoning, Sichuan, Yunnan, Zhejiang), Taiwan, Japan (Hokkaido, Honshu, Shikoku, Kyushu), North Korea, South Korea, Laos, Vietnam, USA (I) (Connecticut (I), District of Columbia (I), Iowa (I), Illinois (I), Kentucky (I), Maine (I), Michigan (I), North Carolina (I), New York (I), Pennsylvania (I), Tennessee (I), Wisconsin (I)), Canada (I) (Quebec (I))
as per
Catalogue of Life

;


.
Cultivated, garden plant
with white flowers.
---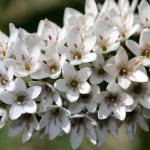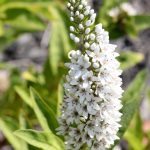 Lysimachia clethroides from California-GS05022021-2
2 images.
Lysimachia clethroides Duby
Common name Gooseneck loosestrife
Herbaceous perennial with oblong to broadly lanceolate alternate leaves and white flowers in terminal spikes.
Photographed from Fremont California, 27-7-2016.
---