Pilea bracteosa Wedd. (syn: Adicea bracteosa (Wedd.) Kuntze; Adicea obliqua (Hook. fil.) Kuntze; Pilea bracteosa var. striolata Hand.-Mazz.; Pilea obliqua Hook. fil.) ?;
S-Tibet, China (NW-Yunnan), Bhutan, India, Myanmar [Burma], Nepal, Sikkim
as per
Catalogue of Life

;


.
---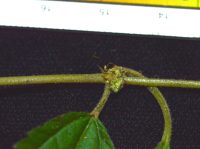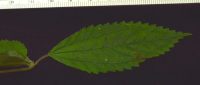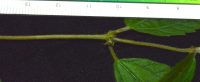 SK 3641 22 September 2022: 5 very high res. images.
Same location on 16 September 2022.
https://groups.google.com/g/indiantreepix/fUTSAAAJ
---
The images look like Pilea cordistipulata or P. aquarum. But two are likely not recorded in Nepal. It is too hard to confirm Pilea without flowers.
---
What do you it being Chamabainia cuspidata ?
---
I do not think it is !
---
Then, you should check:
Also check GBIF specimens from India- one and two.
---
Looks close.
---
---
SHRUB ID——12th DECEMBER 2011—–S.S.—–NEAR GANTOK: Shrub with beautiful leaves and dark new growth. Please can someone id this.
Taken on 8th April 2011 @ 10.30. .
Near MENRONG GONG, North of GANTOK. SIKKIM
Plant…. Shrub.

No flowers/ fruits or other clues. Sorry.
---
if it is a low to medium height shrub may be Chrysothemis pulchella
---
Thank you for your very speedy suggestion …, but the leaves on the above shrub are very different, as they have 3 nerved leaves.
---
This is Chrysothemis pulchella from Gloxinia family.
A garden plant with bright yellow flowers.
Common name Sunset Bells.
I can add a picture of the flowers if you want.
---
But Chrysothemis pulchella has already been suggested by … (See 2nd post above)
I rejected that suggestion as the leaves on my mystery shrub have 3 nerves.
See links below for Chrysothemis pulchella. The leaves have a very different vein pattern.
---
Not Chrysothemis pulchella as leaves are different. Could be one of the nettle members.
---
Looks like some Pilea sp. to me.
---
Many thanks … for your suggestion of Pilea. This is a plant that I know well in Britain, but only indoors, as a very small houseplant. The veining does look similar. My pics were of a shrub. Are there woody Pilea?
---

Could this plant be any Melastomataceae member as in –
---
I agree with …, this is likely to be a Pilea sp. Taking cue from … i searched for Pilea in Sikkim –
---
Could be one of Pilea grandifolia varieties i.e. Pilea grandifolia 'CORAL.' "Copper Pilea" Striking richly quilted pinkish- copper shimmery leaves on erect large spreading Jamaican bush. I remember to have had this plant in our garden in Chennai long back.
---
As per keys in Flora of Bhutan, Pilea bracteosa Weddell is another possibility. Pl. see Flora of China illustration.
---