Elaeagnus latifolia L. (syn: Elaeagnus acuminata Hort. Angl. ex Link; Elaeagnus arborea Roxb.; Elaeagnus breyniastrum Fisch. ex Schltdl.; Elaeagnus elliptica Heyne ex Wall.; Elaeagnus grandifolia Boj. ex Schltdl. (ambiguous synonym); Elaeagnus gussoni Gasparr.; Elaeagnus kologa Schltdl. (ambiguous synonym); Elaeagnus macrophylla Wall. ex DC. (ambiguous synonym); Elaeagnus nepalensis Salm-Dyck; Elaeagnus punctata Schltdl.; Elaeagnus simonii Carr.; Elaeagnus spadicea Savi; Elaeagnus thwaitesii Schltdl.; Elaeagnus tifliensis Fisch. & Vis.; Elaeagnus wallichiana Schltdl.);
S-India, Sri Lanka

, Myanmar [Burma] (Bago, Kachin, Kayin, Mandalay, Sagaing, Shan, Yangon), Malesia,

Andamans (Middle Andamans, South Andamans), Nicobars (Central Nicobars, Great Nicobar Isl., Little Nicobar Isl.), Pakistan (I), Bangladesh
as per
Catalogue of Life
;
---
identification no010511sn1: Kindly identify this plant taken at my farm at Mulshi,Pune
date/time:april11
location:Mulshi,Pune
habitat:wild
plant habit:tree may be
height:full height,about 12 -15 ft.
leaves:color faint green
inflorescence:–
fruits:pinkish,slight elongated,
other info:taste sweet,sour,locally popular called Amboti 
---
This is Elaeagnus conferta Roxb.
family: Elaeagnaceae
---
---
Pl. find the attached file contain photo of Elaeagnus conferta
from NBNP Garden. Anaikatti, Coimbatore.

The fruits are eaten by birds especially Hornbill.
Flower clustered in large groups at base of leaf axils 1-2 cm , white, some strong fragrance not very pleasant.
Important character is the underside of leaves which is silvery.

The fruits are quite tasty. sour and sweet.
---
The fruits are edible taste like tamarind and mostly preferred by forgiver birds, like Hornbill
elaeagnus conferta
,
mahabaleswar
first week of march 2013
tall climber with silvery underside to leaves

delicious tangy fruits
were being sold in popular tourist areas
---
Thanks for sharing. There seems to be a large population of these in Mahabaleahwar..
I remember posting pictures of flowers in Dec. Huge inflorescences in drooping style.
---
---
---
Elaeagnus conferta—-for sharing and validation : 3 posts by 2 authors. Attachments (4).
Pic taken at ambyvalley rd., lonavala, pune in March14.
---
---
---
ANFEB02 Elaeagnus conferta : 1 post by 1 author. Attachments (8)
Family:
Elaeagnaceae
Date: 1st February 2015
Place: Agumbe, Karnataka
Habit:
Shrub
---
Taking this as Elaeagnus latifolia L. in view of discussions under thread: Confusion in Elaeagnus species in Flora of Peninsular India
---
---
Anmod Ghat :: Elaeagnus conferta :: DVFEB60/93 : 3 posts by 2 authors. 3 images.
Anmod Ghat … NH4A descending from Anmod, Karnataka to Mollem, Goa
Date: 26 MAY 2013 … Altitude: descends from about 640 m asl to 90 m asl
Elaeagnus conferta Roxb. … (family: Elaeagnaceae)
---
Elaeagnus latifolia:
Elaeagnus latifolia
At Ganeshgudi, Karnataka
Marathi names are Ambgul, Ambulaki
fruits are edible
01 Dec, 2011
---
Good capture …
I have seen the fruits and tasted it too but never the flowers
---
Only single posting of this species in efi so far.
Does not match with images of Elaeagnus latifolia at
---
This is again a tricky question …!
Prain and Roxburgh recorded it as GUARA, Voigt none, Piddington as GWARA,
Using the present day practice it will be
গুয়ারা
or following Piddington
গ্বারা
 the later having no meaning and very unlikely.
Since this is found in North Bengal (as per Bengal Plants) I am thinking if the name can be derived from
GAUR Bengal
. Maybe … or … can help.
---
Many many thanks … I trust your analysis.
Indeed most of the transcribed names are tricky – 1) typo, 2) listing name from one language for another, 3) name known to only a particular region, and so on. But I think it is better we discuss and attempt to thrash OR resolve such ambiguities.
Will wait for validating comments.
---
Well, … you do find unusual stuff, I am glad.  ANd … you are diligent.
Dr. Kalipada Biswas and Ekkodi Ghosh list it as
E. latifolia
Linn.
and give bangla name same as : গুয়ারা  what … typed above, and they do mention that it also grows in chattagram area and Kumayun (hills, i guess) and that there is a kumayun name:
মীজহাণলা
 as in mij-hanla.
I trust Ekkodi mahashay and Dr Biswas… they were both at the Royal Bot garden as our Shibpur Bot G was known then ….
Hope this helps
---
Thank you Didi. I remember SUPARI is also GUA and as per Voigt Areca triandra is BON-GUA; A. gracilis RAM-GUA; Acacia farnesiana = GUA-BABLA.
---
Thank you very much … for validating the name, and giving it in Bangla script.
---
We have only E. latifolia which Known as Bon-Jara, Loh-baroi, Mirica-tenga, Kambong (Magh)
---
Thanks … for these names.
I thought these names Bon-Jara and Mirica-tenga are in Assamese; Loh-baroi and Kambong in some other north-eastern languages.
Elaeagnus conferta Roxb. … family: Elaeagnaceae





el-ee-AG-nus — Greek: elaia (olive), agnos (pure), possibly referring to the fruit … Dave's Botanary
KON-fer-tuh or kon-FER-tuh — crowded … Dave's Botanary
commonly known as: bastard oleaster, snake fruit, wild olive • Bengali: গুয়ারা guara • Garo: chhokhua • Jaintia: dieng-snlangi • Kannada:ಹಲಗೆ ಬಳ್ಳಿ halage balli, ಹುಣಸೆ ಬಳ್ಳಿ hunase balli • Khasi: soh-shang • Konkani: आंबगूळ ambgul • Malayalam: അങ്കോലാങ്ക angolanga,അങ്കോലപ്പഴം angolapazham, അങ്കോലപ്പുളി angolapulli, കാട്ടുമുന്തിരി kattumunthiri • Manipuri: হৈযাঈ heiyai • Marathi: आंबगूळ amgul, नुरगी nurgi • Tamil: குரங்குப் பழம் kurankup-palam
botanical names: Elaeagnus conferta Roxb. … synonyms: no synonym known … Flora of China • NPGS / GRIN
confusion: Elaeagnus latifolia L. OR Elaeagnus latifolia auct. non L. are ambiguously treated as synonyms of Elaeagnus conferta Roxb. in many resources
---
There are quite a few names listed for
Elaeagnus conferta
Roxb. at
ENVIS – FRLHT
; would like to get them validated, and also will be glad to get them in the native script.
gunnamada patte balli … ಗುಣಮದ ಪಟ್ಟೆ ಬಳ್ಳಿ ?
hejjaala … ಹೆಜ್ಜಾಲ ?
hittele … ಹಿತ್ತಲೆ ? … hittele also listed in The Useful Plants of India by NISCAIR
hulige OR hullgi … ಹುಳಿಗೆ ? or
hunise balli (perhaps hunase balli) … ಹುಣಸೆ ಬಳ್ಳಿ … hunase balli listed in The Useful Plants of India by NISCAIR
kerahuli … ಕೆರಹುಳಿ ?
mayle kollija OR melekollija … ?
---
I have got some names of the plant in Kannada
Elaeagnus conferta
Syn: E.latifolia , E.kologa.

Kannada names- Ambagola (
ಅಂಬಾಗೋಳ
) ,Gunna mada balli
(
ಗುನ್ನ ಮಾದ ಬಳ್ಳಿ
)
, Halage balli
(
ಹಲಗೆ ಬಳ್ಳಿ
)
, Hittele Hulige
(
ಹಿಟ್ಟೆಲೆ ಹುಲಿಗೆ
)
, Hittirlu balli
(
ಹಿಟ್ತಿರ್ಲು ಬಳ್ಳಿ
)
, Hulige
(
ಹುಲಿಗೆ
)
, Hundase beelu
(
ಹುಂದಸೇ ಬೀಳು
)
, Kerehuli
(
ಕೇರೆಹುಳಿ
)
, kulangi
(
ಕೂಲಂಗಿ
)
, Mele kollija
(
ಮೇಲೆ ಕೊಲ್ಲಿಜ
)
, Patte Hejjala
(
ಪತ್ತೆ ಹೆಜ್ಜಳ
)
.

Ref:
Botanical And Vernacular Names Of South Indian Plants
by
Magadi R Gurudev
.
---
Agumbe, Karnataka
26th December 2014
---
Very beautiful, from your latest stock.. thanks …
Date/Time : January 22, 2011 at 8.40am IST
Location Place : along mountain trail to Kulanggad, a hill fort near Ghoti, Nasik
Altitude :  863 m (above mean sea level)
GPS : 19.599219 N, 73.646627 E
Habitat : mixed deciduous forest
Habit : climber
---
– I think this is "Elaeagnus conferta" (Elaeagnaceae Family). Its fruit is edible.
---
– Yes Elaeagnus conferta sometimes known as wild olives !!
---
– The fruits of Eleagnus tastes very good.
---
---
---
---
This
tree with straggling branches
was seen next to a waterfall in the Tamhini ghat
near Pune, MH
in Aug 2019.
Requested to please provide ID.
---
… taking a guess … Elaeagnus conferta.
---
Thank you … for the ID.
---
…, mine is a guess; I hope someone, or … validates it.
---
Yes Definitely Elaeagnus but difficult without flower or fruit !
---
This
tree was seen in the forest next to a waterfall
in the Tamhini ghat near Pune, MH
in Aug 2019.
Is it possible to ID with these limited pics?
---
I think … image at Elaeagnus conferta in FOI, still needs to be removed.
---
I will do so. Still trying to understand this issue properly.
---
Pl. correct.
---
In fact, this page: Elaeagnus conferta in FOI itself needs to be deleted as fruits can not be relied upon for id.
---
---
Elaegnus latifolia
Abundantly seen
in Mahabaleshwar
near and around the Venna lake
Shrub for Id from Tamhini forest, Pune: 3 images.
Area- Tamini forest area, Pune
Habit -Medium Sized shrub
Too many bees on the flowers of this shrub.

Please help in identification.
---
Image quality not so good but looks like Elaeagnus conferta Roxb. !
---
Yes, it's …, Collected also,
---
Although details are not clear due to small images, it may come out to be Elaeagnus latifolia L. as per images and details herein and as per comparative images at Elaeagnus
---
Thank you … for sharing posting guidelines.
I tried posting large images but mail failed. May be it was too large.
Re-posting better images.
Yes it matches with Elaeagnus sp.
3 images.
---
Max. around 7 mb images can be sent.
Others can be sent in reply in a similar way.
---
---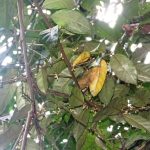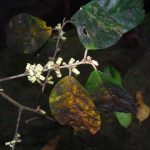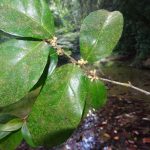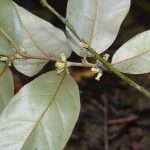 Tritaxis balakrishnanii (Euphorbiaceae) from Andaman Islands: 5 images.
Botanical name: Tritaxis balakrishnanii (Chakrab.) & Premanath) R.Y. Yu & Welzen – Dimorphocalyx balakrishnanii Chakrab. & Premanath. (Euphorbiaceae)
Photographer: Mr. B. C. Dey.
Location: Little Andaman Island (Andaman & Nicobar Islands), India.
Habitat: Scarce in inland forests.

Distribution: India, Andaman Islands – endemic.
---
It's Elaeagnus sp.,
---
Yes !
---
I thought photos misplaced
---
Thanks for your reply. I am checking with the photographer.
---
Elaeagnus conferta Roxb.??
---
Now I have checked. I had taken the identity for granted seeing similar flowers.
Yes, this is 
Elaeagnus conferta
Roxb.
---
Let us introduce Tritaxis balakrishnanii too
---
Not having any good field image.
---
This is Elaeagnus latifolia L.as per images and details herein and as per comparative images at Elaeagnus
---
.
---
255 ID wild plant: 17 images.
Please ID wild plant,
Location: near Vannappuram Thodupuzha Idukki Dist. Kerala PIN:685607
Altitude: 1500fsl
Flower date: 14.01.2022, 10.35am
Habitat: wild moisture
Plant habit: climbing, branches, slender hard woody stem 08 inches base circumference, branch base remained as hard thorns, long lasting
Height: 12 meters
Leaves: alternate, ovate, apex, wavy margins, glossy, silver underneath, both white dotted (insect attack?) and non dotted overneath, size:12×8cm or less
Flower: racemose, size:1×0.3cm, diameter:05mm, green, good fragrance
Fruit: drupe ovoid green size:2.5×0.7cm
Seed:
Camera: mobile Samsung Galaxy A21s
---
Elaeagnus
---
I think it is close to Elaeagnus latifolia L. as per images and details herein and as per comparative images at Elaeagnus
---
Yes, it is Elaeagnus latifolia, thank you very much for ID my plant,
---
---
.
References:
Catalogue of Life  Flora of Karnataka  Flora of peninsular India  Flora of eastern Ghats  Keys from Flora Malesiana  Useful Tropical plants  Flora of Pakistan