Iris ensata Thunb., Trans. Linn. Soc. London 2: 328 1794. (syn: Iris doniana Spach; Iris ensata f. alba Y.N.Lee, no type indicated; Iris ensata var. hortensis (Maxim.) Makino & Nemoto; Iris ensata var. pabularia (Naudin ex Ermens) Wittm.; Iris ensata var. spontanea (Makino) Nakai ex Makino & Nemoto; Iris graminea Thunb., nom. illeg. (ambiguous synonym); Iris kaempferi Siebold ex Lem.; Iris kaempferi var. hortensis (Maxim.) Makino; Iris kaempferi var. spontanea Makino; Iris laevigata var. hortensis Maxim.; Iris laevigata var. kaempferi (Siebold ex Lem.) Maxim.; Iris longifolia Royle ex D.Don, nom. illeg.; Iris pabularia Naudin ex Ermens; Iris smithii Lynch, pro syn.; Joniris doniana (Spach) Klatt; Joniris longifolia Klatt; Limniris ensata (Thunb.) Rodion.; Xiphion donianum (Spach) Alef.);
Amur;

Assam

; China North-Central; China Southeast; Japan; Kazakhstan; Khabarovsk; Korea; Manchuria; Maryland; Ontario; Pennsylvania; Primorye; Rhode I.; Vermont; Virginia; West Himalaya; Yakutskiya
as per
Catalogue of Life

;
SE. Siberia to Japan
as per
WCSP
;
.
---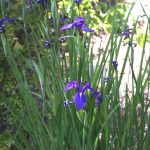 Iris ensata from UCBG California-09102021-2: 2 images- 1 high res.
Iris ensata photographed from University of California Botanical Garden, California, 19-06-2008.
---
A cultivated, garden plant.
---
Iris versicolor ??
---
It does look close to my pictures.
---
To me looks different from Iris versicolor
Pl. check Iris ensata 'Rose Queen' as per
---
Thanks a lot. Your suggested id seems to be correct.
---