Toxicodendron
radicans
(L.) Kuntze,
Revis. Gen. Pl. 1: 153 1891
.;
.
E. Canada to Guatemala, Bahamas, Bermuda:
Alabama, Arizona, Arkansas, Bahamas, Bermuda, Connecticut, Delaware, District of Columbia, Florida, Georgia, Guatemala, Illinois, Indiana, Iowa, Kansas, Kentucky, Louisiana, Maine, Maryland, Massachusetts, Mexico Central, Mexico Gulf, Mexico Northeast, Mexico Northwest, Mexico Southeast, Mexico Southwest, Michigan, Minnesota, Mississippi, Missouri, Nebraska, New Brunswick, New Hampshire, New Jersey, New York, North Carolina, Nova Scotia, Ohio, Oklahoma, Ontario, Pennsylvania, Québec, Rhode I., South Carolina, South Dakota, Tennessee, Texas, Vermont, Virginia, West Virginia, Wisconsin
as per
POWO
;
---
---
yes, Toxicodendron radicans
look at the thin hairs that cling to the host tree
This is
their summer color
, prolific in growth, and widely available all over, you cant miss it.
in the fall they are spectacular red/orange/mottled//look attractive to those that do not recognize it
and they want them for the fall//thanksgiving decoration!!!!
its a horrible plant
There's a saying to help identify Poison Ivy…
"Leaves of Three, Let it Be!"
==
not so prolific and common, even in the west, one has to search for it
it does not climb, grows on ground only
I have seen one. near a railway track after much searching once in a somewhat wild ernes place.
---
Thanks a lot. I knew you would give your valuable inputs to this post. Had seen one at New Windsor also. It was growing through the wooden strips.
Will post it separately.
And thanks for the additional information as well.
You are too good with US plants.
---
This was the other what I believe to be Poison Ivy.
It was deep in the woods, coming out of a wooden platform.
We had stayed in an airbnb. It was a wooden house in the woods.
Taken in June,17.
---
thanks … it is indeed poison ivy
---
.
---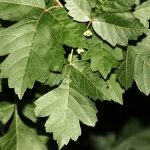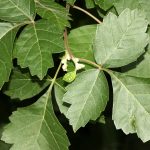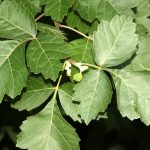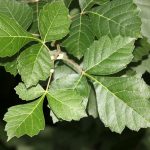 Toxicodendron radicans from Canada-GS07122021-4
: 4 very high res. images.
Toxicodendron radicans
photographed
from Mississauga, Canada
, 22-8-2019
---
Base of terminal leaflet is creating doubts as per images at
https://powo.science.kew.org/taxon/urn:lsid:ipni.org:names:255769-2
Toxicodendron rydbergii (Small ex Rydb.) Greene ??
---
Toxicodendron rydbergii has glabrous petioles, they are pubescent in T. radicans and my plant
See bottom of the page
---