Cajanus elongatus (Benth.) Maesen (syn: Atylosia elongata Benth.; Cantharospermum elongatum (Benth.) Raizada);
---
Stems sparsely pubescent with long fine hairs. leaves digitately trifoliate, leaflets ovate or broadly elliptic 2.5-4 x 2-3.5cm, acute, base rounded, sparsely pubescent with long fine hairs and glands especially beneath, stipules absent, stipules 4 x 2mm. Flowers 1-4, peduncles slender 3-4cm, bracts elliptic 4mm, 3-toothed at apex. Calyx tube 2-4mm, teeth narrowly triangular 5-8mm. Petals 10-12mm. Pods 1.7-2.5 x 0.5-0.8cm, 3-4- seeded.
Trongsa (Nimshong), Trashigang (Damoitisi). 2000m.
---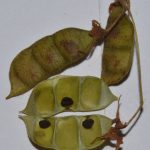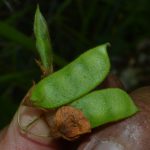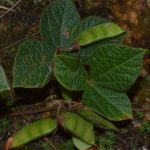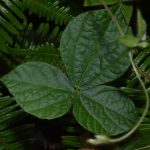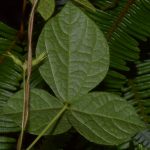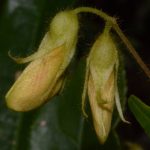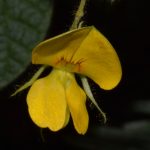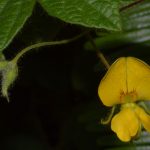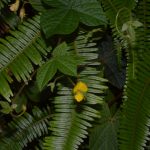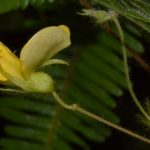 Rhynchosia himalensis Baker : 15 posts by 4 authors. Attachments (4)- around 1400 kb each.
Loca
t

ion: Champadevi, Kathmandu, Nepal
---
Attachments (3) – 658 kb, 2 mb & 3 mb.
---
Attachments (2)- 2 mb each.
---
---
Stunning series of images.
It does not match with entry in FOI.
Moreover,
Rhynchosia
is known for its two seeded pods, which it is not.
Reminds me of
Cajanus scarabaeoides
, not a 100 % match though. 
---
Elevation, leaf patter and legume does not match !
---
Thanks, …, for leading the right direction.
Keys in Flora of Bhutan lead me to Cajanus elongates.
Pl. check at
GBIF
To me  appears close.
---
Thank you …!
I guess … has given the correct ID because elevation for Cajanus scarabaeoides
does not match.
---
Attachments (1)-pdf- 118681-Article Text-358704-3-10-20180723.pdf
---
how recent is the elevation related data?
---
Could you please check the link …!
And then recent book I have mentioned earlier also says so !
---
In the pdf you sent. its from 2018 ad its listed that Cajanus scarabaeoides is found in 10 m to 1500 m asl (in their ecology section of each species: lowest I found was 800m asl for c. goensis, and rest were found all the way up to upto 1800m asl.)
---