Synotis triligulata (Buch.-Ham. ex D.Don) C.Jeffrey & Y.L.Chen, 329 1984. (syn: Cacalia ramosa Spreng. ex DC.; Senecio acuminatus f. breviligulatus Hand.-Mazz.; Senecio floribundus Wall. (ambiguous synonym); Senecio triligulatus Buch.-Ham. ex D. Don);
China (NW-Yunnan), Tibet,

India (Arunachal Pradesh, Mishmi Hills, Darjeeling), Sikkim, Nepal, Bhutan

, Thailand, Myanmar [Burma] (Chin, Kachin, Sagaing, Shan)
as per
Catalogue of Life;


.
---
Syn: Senecio triligulatus Buch.-Ham. ex D.Don
---
Distribution to Nepal is not mentioned in any links except in the enclosed journal and corolla yellowish-white in this sp. whereas in my sp. it is purely dark yellow. As such, I could not decide.
---
I have crossed checked with … also and he  has validated as Senecio triligulata i.e., Synotis triligulata.
---
How can you be so sure with so many species in Checklist of Nepal
---
I checked POWO, GBIF and CoL. They are not showing distribution in Nepal but only S.himalayas !
---
---
But Flora of China says Capitula minutely radiate, numerous, arranged in terminal compound corymbs; Ray floret 1; Disk florets 2 or 3;
So it is not Senecio acuminata also.
---
On further checking, it is seen that it should be Synotis vagans as per GBIF specimens as below:
For Synotis vagans, Flora of Bhutan says:
Similar to S. triligulata but glabrous; leaves narrowly ovate. 7- 12 >< 2.5- 4cm. rounded at base. denticulate: petioles up to 10mm: capitula in axillary corymbs; phyllaries 8. glabrous; ray flowers c 4-5. corolla tube 3mm; ligules 4 >< 1.5mm: disc flowers 5——6: pappus 7mm.
For Synotis triligulata (Buchanan-Hamilton ex D. Don) C. Jeffrey & Y. L. Chen,
Flora of China
says, petiole 1-2 cm, capitula minutely radiate, very numerous, arranged in lax axillary and terminal rounded compound corymbs; Ray florets 3 or 4; Disk florets 3 or 4;
---
I guess you are correct …!
---
Some expert from China has validated as Synotis triligulata !
---
It looks close to both species suggested here. So need to measure and observe the specimen floral and other features to confirm.
---
As already discussed in detail in this thread, it should be 
Synotis vagans
only as per details and references herein.
Synotis triligulata
 looks different as per images and references herein.
---
Ok, I agree as the image is by Stainton, John David Adam
---
---
Location : Hmuifang, Mizoram
Altitude : c. 1,400 m.
Date : 29/01/2016
Habit : shrub
Habitat : Wild
---
Inula sp.
---
Pl. check with Duhaldea cuspidata (Wall. ex DC.) Anderb. as per comparative images at Duhaldea
---
How does Duhaldea griffithii (C.B.Clarke) Anderb. plant look like??
---
Looks different as per Duhaldea griffithii in GBIF
---
What are the Inula species listed in your area?
---
Inula cappa, I.eupatorioides, I.nervosa & I.rubricaulis are recorded in Mizoram
---
Out of the four species listed, it appears close only to Duhaldea eupatorioides as per GBIF– specimen 1, specimen2 and description in Flora of China.
However, I am a bit doubtful as leave nerves look a bit different and less in no., although nothing is specified in the description in FoC.
Specimens from GBIF at following look different:
1 high resolution image.
---
Yes, looks different from  Duhaldea eupatorioides too.
---
What are the Senecio species recorded in your area?
---
Senecio wightianus & S.wightii are recorded in Mizoram
---
I do not think it matches with either of the two as per images and details at Senecio wightii and Senecio scandens
---
.
---
Requesting for ID of this plant : Attachments (1). 4 posts by 3 authors.
Location : Hmuifang (1,500 m. alt.). Date : 25-11-2013. Habitat : Wild. Habit : Herb or small shrub ?
This is Synotis triligulata (Buch.-Ham. ex D.Don) C.Jeffrey & Y.L.Chen as per images and details herein and as per keys herein.
---
.
---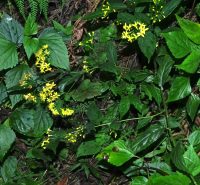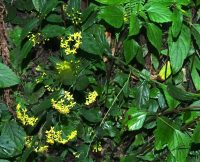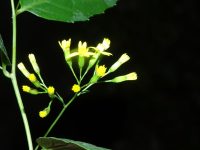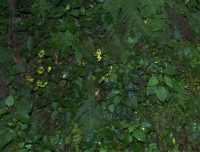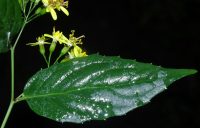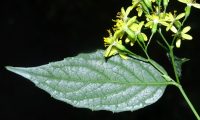 SK 3660 06 December 2022: 8 very high res. images.
Location: Kulekhani, Nepal
Altitude : 1556m.
Date: 24 November 2022
Habit : Wild
Senecio / Synotis for ID !
---
Pl. check:
https://efloraofindia.com/2020/02/05/synotis-triligulata/
To me appears close.
---
---
.
References:
Catalogue of Life  The Plant List Ver.1.1  GCC  World Flora Online  GBIF  Flora of China  FOC illustration  Annotated checklist of Flowering plants of Nepal  Bhutan Biodiversity Portal  Europeana (Specimen)  Research Gate (Specimen)
Distribution Pattern of Synotis (C.B. Clake) C. Jeffrey & Y.L. Chen (Senecioneae : Asteraceae) in Nepal Sudha Joshi (Shrestha)- Himalaya Pleione 11(2): 177 – 186. 2017. (Abstract- The distribution pattern of ten species of Synotis (C.B. Clarke) C. Jeffrey & Y.L. Chen in phytogeographical regions and bio-climatic zones in Nepal along with the species richness was studied. Central Nepal houses the highest number of species, followed by the east Nepal. West Nepal has the least number of species. Within the bio-climatic zones, the highest numbers of species are present in the temperate zone, followed by subalpine zone and then subtropical zone. Alpine zone houses only three species of Synotis. The species richness is peaked in the central Nepal and at the elevation of 2100 – 2200 m and 2400 – 2600 m.)