Passiflora incarnata L., Sp. Pl. 959 1753 (syn: Granadilla incarnata (L.) Medik.; Passiflora edulis var. kerii (Spreng.) Mast.; Passiflora kerii Spreng.; Passiflora rigidula Jacq.);
USA (Alabama, Arkansas, District of Columbia, Delaware, Florida, Georgia, Illinois, Indiana, Kansas, Kentucky, Louisiana, Maryland, Missouri, Mississippi, North Carolina, Ohio, Oklahoma, Pennsylvania, South Carolina, Tennessee, Texas, Virginia, West Virginia), New Guinea (alpine (I)), Vietnam (I),

Myanmar [Burma] (I),

New Caledonia (I), Belize (I), Madagascar (I)
as per
Catalogue of Life

;
---
Passion Flower For ID : Flower Show,Mumbai : 12FEB17 : AK-21 : 4 posts by 2 authors. Attachments (1)
Passion Flower completely Purple in color seen at the Flower Show last month (12.2.17)
---
Pl. Check comparative images in EFI,  if available.
---
… has suggested to check Passiflora incarnata.
---
---
I had sent this picture to both …
Both have written back saying this is Purple Passion Flower,
Passiflora incarnata
L.
… had replied on my other post by mistake. 
---
Thanks, … But this does not appear to be true Passiflora incarnata.
---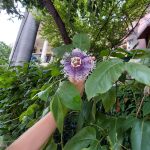 Id please- 160921PC 1
: 1 high res. image.
Segregating as 
clubbed due to same subject
:
Friends,
Identify this passion flower. It is
bloomed in my house

on 22nd August this year.
---
I think Passiflora incarnata L. as per images and details herein and as per comparative images at Passiflora.
---