01. Quoting from Baker's Handbook of the Amaryllideae (1988):
Perianth white; tube erect, tinged with green, 3-4 in. long; segments linear, 2-3 in. long. Stamens tinged with red, 2 in. long: Crinum asiaticum
Perianth-tube erect, cylindrical, bright red (other literature have quoted as purple also), 3-4 in. long; segments 4-5 in. long, red on the outside: Crinum amabile
02. Quoting from Afroz et al. (2018). TAXONOMIC REVISION OF THE GENUS CRINUM L. (LILIACEAE) OF BANGLADESH. Bangladesh J. of Pl Taxonomy 25 (2): 257-271.
Scape purplish, shorter than the leaves: Crinum amabile
Scape green, longer than the leaves: Crinum asiaticum
---
Crinum procerum –  one of the red varieties.
---
Would this be Crinum procerum var. splendens?
---
Yes. It looks closure to it.
---
Thanks, …, for the id.
Yes, to me also appears closer to Crinum asiaticum var. procerum f. splendens as per
---
Thanks … Something very odd.
I had rotated the pictures before sending to make them straight.
In my Gmail, they are straight, but showing the original form on Eflora.
---
Crinum × amabile Donn ex Ker Gawl.
---
Thanks … Now, I am further confused.
Thought the id you had suggested was close to my pictures.
Now, I wonder what my Lalbagh Lilies are.
---
---
please validate-Amaryllidaceae–Crinum augustum.
Habitat-
cultivated garaden
Flowers-scented.

Height-4 feet.
---
Crinum asiaticum
---
So many pink-white crinum flowers identified with so many names in the net is very confusing to me. I think –
i) if flowers are pedicellate (1 to 2 inch) it is
C. augustum R.
, and they are sweetly fragrant
ii) if flowers are sessile it is
C. zeylanicum (L.) L.
, don't know if they are fragrant
May be there are more similar looking other species.
---
Thanks …The sweet scented flowers are borne on a long pedicel-upto 2 feet long. It is the same thing as in … post on 030812 from Lalbagh.
---
Your crinum may be same as the one you have mentioned. But perhaps you have meant 2 ft peduncle, not pedicel. Please correct me if I am wrong.
---
Yes dear …; thanks for correcting me. It is a peduncle bearing the flower cluster.
---
Since leaves are all basal and inflorescence axis is leafless we would call it a scape and not a peduncle.
---
Yes Sir, I was wrong.
---
No … you were not wrong
The plant bears usually more than 50 cm long scape (some may call it peduncle, though technically it is scape) in both species at the tip of which flowers are borne in an umbel subtended by spathaceous bract. Individual flowers may be sessile (no pedicel) or have a distinct pedicel. The ovary being inferior, pedicel if present would be below the ovary.
---
Yes Sir, I wanted to say pedicels (or not) on the scape, instead wrote pedicels on the peduncle….. must be something to do with those Alocasia-Colocasia!
---
As … is an experts on Crinum & published a new species-
Kew Bulletin September 2012, Volume 67, Issue 3, pp 521-526 Crinum malabaricum (Amaryllidaceae), a remarkable new aquatic species from Kerala, India and lectotypification of Crinum thaianum by M. M. Lekhak & S. R. Yadav- we should review the identity of this post in light of his views.
---
At the outset let me tell you that I am not an expert in this group. I am just a beginner. The group is highly polymorphic and species particularly the ones which are in ornamental trade (Crinum asiaticum, C. amabile, C. powellii etc) are very difficult to delimit. The image provided here cannot be Crinum zeylanicum as C. zeylanicum has funnel-shaped perianth not salver-shaped (as in the present case). Let me see some literature on cultivated Crinums. I will get back to you.
---
Can we take it as Crinum × amabile ?
---
Yes Sir, let's wait for .. feedback.
---
Yes, I shall go with Crinum x amabile Donn ex Ker-Gawl
---
Thank you for your mail, it is Crinum asiaticum (=C. ambile)
---
---
Images by (Aarti Khale  – identified by Ritesh Kumar Choudhary), (Inserted by Bhagyashri Ranade)
Looks like some species of spider lily.
Buds are red in color. Missed seeing the open flower.
---
Crinum x amabile Donn is my guess. Amaryllidaceae.
---
It does look like Crinum x amabile Donn, Giant Spider Lily.
---
This could be Crinum asiaticum also !!
---
To me it looks like Crinum x amabile Donn.
---
Can we take it as Crinum × amabile ?
---
01. Quoting from Baker's Handbook of the Amaryllideae (1988):
Perianth white; tube erect, tinged with green, 3-4 in. long; segments linear, 2-3 in. long. Stamens tinged with red, 2 in. long: Crinum asiaticum
Perianth-tube erect, cylindrical, bright red (other literature have quoted as purple also), 3-4 in. long; segments 4-5 in. long, red on the outside: Crinum amabile
02. Quoting from Afroz et al. (2018). TAXONOMIC REVISION OF THE GENUS CRINUM L. (LILIACEAE) OF BANGLADESH. Bangladesh J. of Pl Taxonomy 25 (2): 257-271.
Scape purplish, shorter than the leaves: Crinum amabile
Scape green, longer than the leaves: Crinum asiaticum
I think we should go with Crinum x amabile
---
These are similar to the ones seen in Flower Show in Mumbai.
---
Crinum only
---
Thanks, …, for the id.
Yes, appears to be Crinum × amabile as per images and details herein.
---
---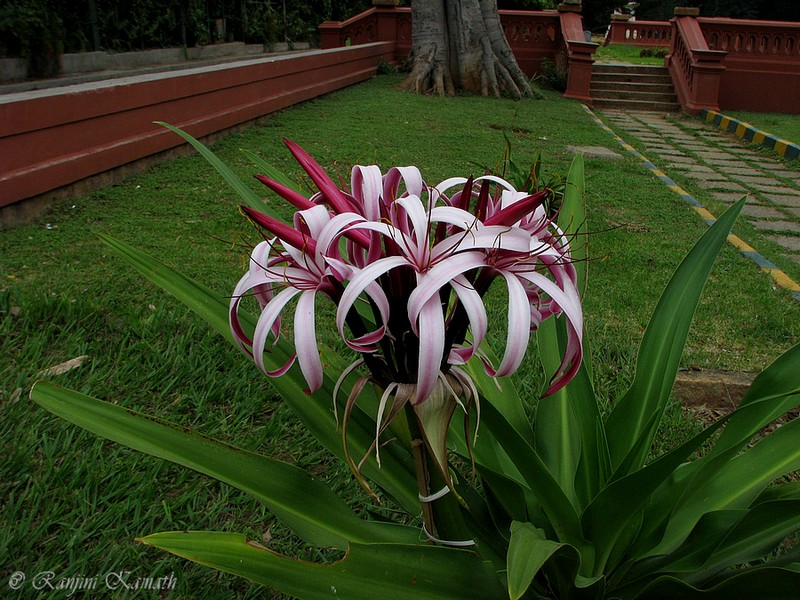 Crinum latifolium – 19/09/12 – RK2:
Milk & Wine Lily – Crinum latifolium – Lalbagh, Bangalore – 09/09/12 –
9.15 am . Lovely surprise in Lalbagh.
---
This is Crinum × amabile Donn ex Ker Gawl., as per images and details herein.
---
---
.
References:
Catalogue of Life  The Plant List Ver.1.1  WCSP  POWO  GBIF (High resolution specimens) Flora of peninsular India  Flowers of India  Indiana University Bloomington  Flower's Pictures  Pacific Bulb Society