India (Andhra Pradesh, Tamil Nadu, Kerala), Sri Lanka, Myanmar [Burma] (Kachin), Bhutan
as per
Catalogue of Life
;
Tamil:
Kakkai-palai; Kolai aili; Gutti; Kottargovai 
Malayalam:
Anavananki; Pannimurangam; Pannimurunga; Vella – kunnan; Malampavatta
Kannada:
Hillange; (Ref.
Biotik

)
commonly known as
: casearia, esculent-leaved false kamela •
Gujarati
: ટંડોલ tandol •
Hindi
: सप्तरंगी saptrangi •
Konkani
: satagan •
Malayalam
: ചാറുക്കുന്നം cherukkunnam, മലമ്പാവെട്ട malampaavetta, വെള്ളക്കുന്നംvellakkunnam •
Marathi
: किरमीरा kirmira, कुळकुळटा kulkulta •
Nepalese
: thulo dedri •
Sanskrit
: सप्तचक्र saptachakra, स्वर्णमूलः svarnamulah •
Tamil
: காக்கைப்பலா kakkai-p-pala, குட்டி kutti •
Telugu
: కొండ గంగుడు konda gangudu ;
.
---
Please identify this plant details of which are as follows:
Location :Bison valley, Alagarkoil hill ranges, Natham taluk, Dindigul dt
Leaves :alternate

Flowers :as seen
---
I think it is Casearia esculenta (now Guidonia esculenta).
---
Flacourtiaceae.
---
Thanks for the id. Is it a bird attracting native plant?
---
.
---
Sending photos of Casearia esculenta identified by … and … in my previous mail dated 12.11.13
Location :Bison valley, Alagarkoil hill ranges, Natham tk, Dindigul dt
Altitude :2250 ft
Habitat :Reserve forest
Habit :straggler
Height :20 to 30 ft
Leaves :alternate
Flowers :as seen
Fruits :,
---
Good pictures of Casearia esculenta
---
---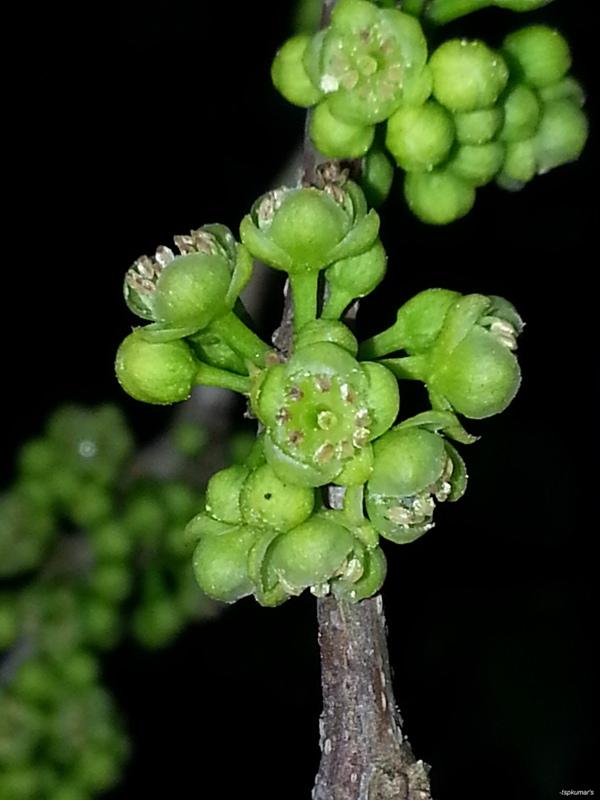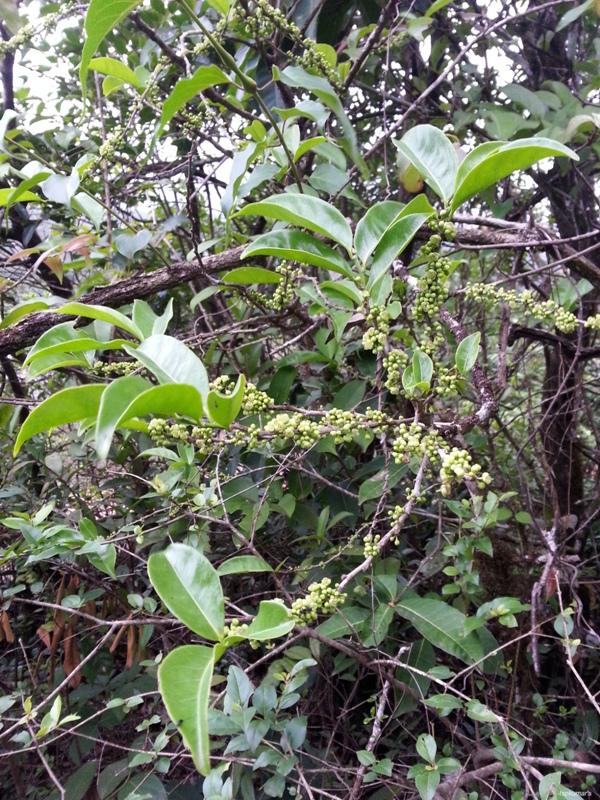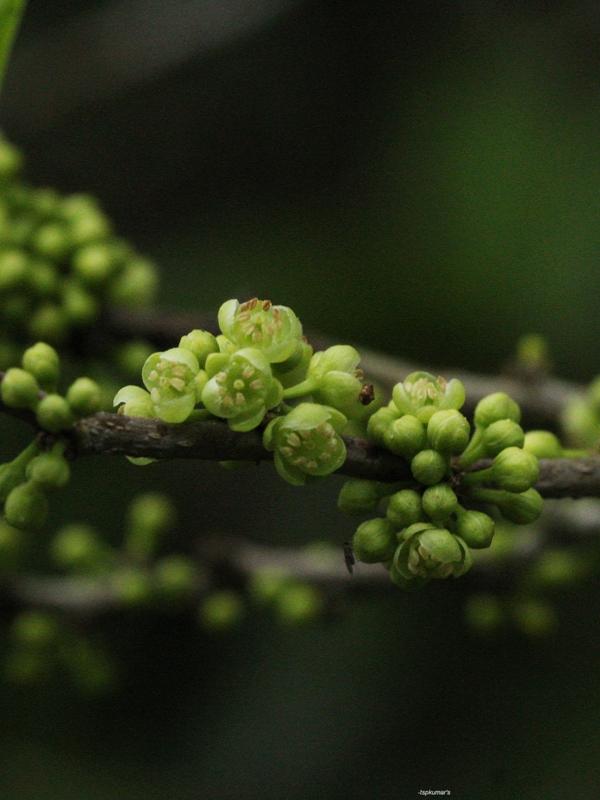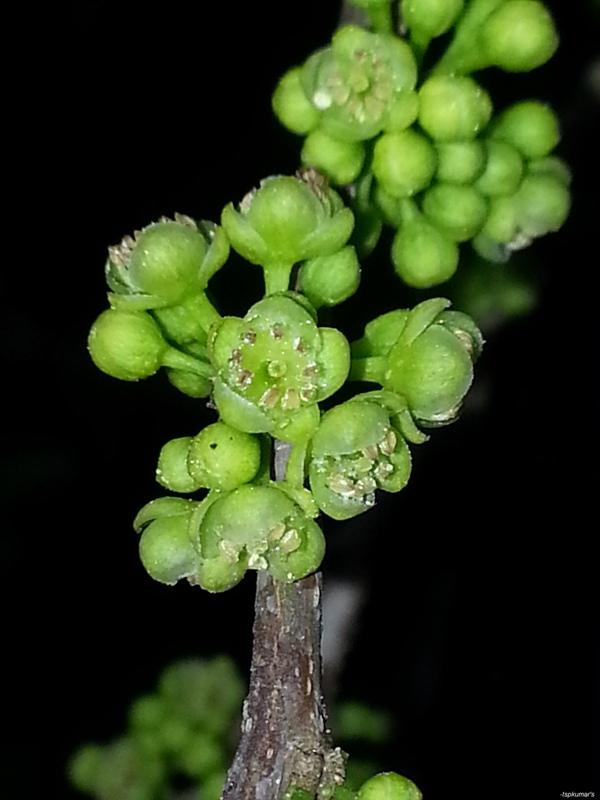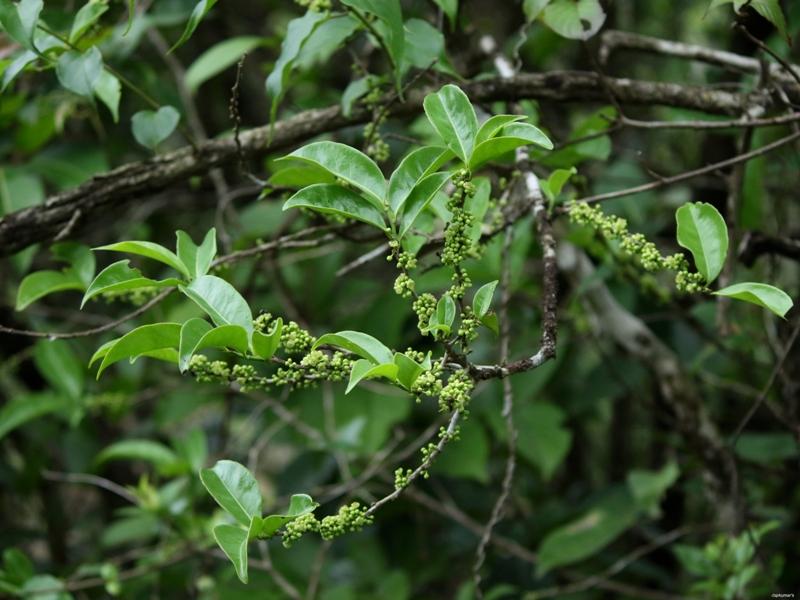 67-TSP-ID-21MAY2016-1: A tree @ Kotttigehara for ID : 4 posts by 2 authors. Attachments (5)
Kindly identify this tree with greenish sub-sessile flowers. 
Habit: A medium sized tree. 
Habitat: Wild, Evergreen forest. 
Sighting: Kottigehara, Chikmagalur, Karnataka, about 1200 msl 
Date: 20-05-2016
---
Casearia ovata (Lamk.) Willd.
---
Matches with Casearia ovata ….Salicaceae……Thanks again …
---
---
Saw this Glochidion flowering, request species ID, is it Glochidion ellipticum– Bhooma? Thank you.
| | |
| --- | --- |
| Date/Time : | 26 April 2010 |
| Location- Place, altitude and GPS: | Anashi WLS, Karnataka. |
| Habitat- garden/ urban/wild/type: |  Wild |
| Plant Habit-tree/shrub/climber/herb: |  Tree |
| Height/length: |  small |
| Leaves-type/shape/size: |  Elliptic, lanceolate, glabrous |
| Inflorescence type /size: |  Clusters almost  sessile 1 to 2 mm pedicels. |
| Flowers-size/colour/calyx/bracts: |  Small,  green |
---
This does not look like Glochidion ellipticum [G.hohenakeri]. Sending you some of my photographs of Bhoma for comparison [though they are not very clear].
---
I hope this plant is Glochidion ferdinandi commonly known as " Cheese Tree".
---
Thanks …, not quite convincing, floral buds look different? Shall await further inputs.
---
… some species of Casearia ?
---
Looks like Casaeria
---
Caesaria spp. are of Flacourtiaceae family; would this be?
---
Thank you … for the possible ID. I looked for Caesaria sp. and once again looked up for Glochidion, could not resolve the ID. Shall await till someone can resolve it !
---
I think I can safely conclude this to be Casearia ovata (Lamk.) willd- Flacourtiaceae. The pictures and description match very well with Biotik data.
---
It is Casearia ovata of FLACOURTIACEAE family
---
Check for Garcinia sp.. May be Garcinia talbotii  (Family: Clusiaceae).
---
It is not Garcinia. Garcinia is very peculiar with its leaf venation and Garcinia leaves are much thicker. Please check the characters for Casearia ovata (Flacaurtiaceae) in flora and herbarium . This plant is none other than Casearia ovata.
---
I think it should be Casearia zeylanica as per images and details herein.
---
---
Casearia ovata at Matheran:
After our discussion a couple of weeks ago about Casearia graveolens and Casearia ovata aka C. esculenta I have been hoping to get some pics to send. (I hope … is reading this!)
Casearia ovata is common in the understorey of the evergreen forest on Matheran and these pics were taken today and a few 5 days ago. Some of the trees were flowering and all had new bright green leaves. I didn't see any fruit. Due to low light and heavy rain it was quite difficult to get good images. Trees have quite a horizontal branching habit and the largest ones are about 20 ft tall. After looking at the flowers and leaves with a magnifying glass I feel this id is correct, but I'm open to correction.
This species does not occur on the lower slopes of the mountain nor out in the open areas – I walked all the way down and had a good look. Lower down we see lots of C. graveolens.
---
Casearia ovata at Matheran: Touche' ! Fair enough, but this tree definitely looks different from the shrub under discussion.
---
I'm not clear, are you saying my pics are not Casearia ovata?
Is anyone else familiar with the species?
---
My take – your tree is C.graveolens while the shrub discussed previously [and the ones on my property at Shahapur] are C.ovata.
---
That's interesting! Thank you. Will do more research on the relative distributions of these species.
---
I think it should be Casearia zeylanica (Casearia esculenta Roxb.) as per images and details herein.
---
I had taken Casearia ovata to be a synonym of C. esculenta according to sources available at the time.
There is still confusion in this genus.
---
Yes, there seems to be a lot of confusion in the nomenclature, particularly Flora of Maharashtra.
---
In Dr Almeida's Flora of Maharashtra he has labelled the evergreen species C. ovata, with a description which matches perfectly.
I can appreciate there may have been a change in the agreed name for this species since the publication of his work.  However to now call C. ovata a synonym of the very different C. graveolens is very confusing, especially as other reputed sources are still using the name C. ovata for the evergreen tree. How can this be explained?  In the field the two trees cannot be confused, although perhaps herbarium specimens might be.
---
I do not know how the confusion has arisen, as to Casearia ovata aka C. esculenta.
Maybe some good taxonomists, dealing with the matter, can explain.
---
---
Location:  Soureni, India 
Habit : Wild

Casearia graveolens 
Dalzell
??
---
I found inflorescence to much more hairy compared to those of other images at
Casearia graveolens
---
Seem more of Casearia zeylanica
---
On further checking, I also feel that you may be right.
---
---
Monsoon 2011 – Making a magical flora discovery in rainy Coorg ( Part 3)
(Perhaps a Wild Nutmeg, Knema attenuata, Myristicaceae family)
Rainy season is the best time to visit Coorg, blanketing the place as it does in shades of green, be it lush forests,
mountaintops and every other spot. Bhagmandala, the place where the three rivers, the Kaveri Kannike and Sujyothi merge is no exception and one fine day at the height of the monsoon season, we walked the woody paths in Bhagmandala. The drizzle had set in by afternoon, continuing into the evening when suddenly
it took on the shape of a downpour. We retreated to the shelter of the nearby trees and what do we find here but that hidden in the dark and dense vegetation were these spectacular young red flowers. We had hit a jackpot!
1. Tolypanthus lagenifer– [Indian Tolypanthus] from the Family Loranthaceae,
2. Cup and Saucer plant [Breynia retusa] -already posted,
3. Id request – (This email))
(Perhaps a Wild Nutmeg, Knema attenuata, Myristicaceae family. I have to check the bot. desc. in detail)
---
Wonderful. I wish I should have been there with you. Last week when I visited Tala Kaveri and Bhaghamandala were experiencing heavy showers and during intermission the whole place was covered with fog and we could not see 10 ft ahead without light. But we enjoyed the beauty of the place . This reminded me of San Francisco (fog city)
when under heavy fog.
I shall try to visit the place again on a possible sunny day. One clarification : Is it not the place (Bhagamandala) where the rivers Kaveri, Kannike and Sujyothi are branched off and not merge ?
---
This is not Knema attenuata.
This may be Casearia sp.
---
Sir, this is probably Knema attenuata only.
---
---
THERE ARE 8 SPECIES OF CASEARIA SPS TREES. SHARP PICS OF LEAVES AND FRUITS GREATLY HELP IN ID.PL. SEE MY LATEST BOOK 'FOREST TREES OF THE WESTERN AND EASTERN GHATS.
FROM THE FORMER PIC POSTED IT WAS KNEMA ATTENUATA., FOR WHICH THE FIELD ID IS PROFUSE RED COLOUR BLEEDING IN ITS FRESH BLAZE
Location: Soureni, Mirik, India
---
A species of Casearia
---
Casearia graveolens Dalzell ??
---
efi page on Casearia graveolens with images
---
I have now checked with available images, keys and descriptions and this appears to me to be Casearia graveolens
---
Thank you … Casearia graveolens Dalzell
Nepali Name : सानो देद्रि Saano Dedri
---
Casearia zeylanica is not found in NE India, according to the distribution map at POWO.
---
Even I could not find its distribution in West Bengal in any links.
However, distribution map in POWO and GBIF are not always correct.
There are so many species from Nepal not mentioned in these two links.
---
However, could it be Casearia graveolens, which is distributed in NE India?
---
That was ID earlier.
---
It is from Soureni, Mirik, India, which is very close to Bhutan, where it is reported as per Catalogue of Life. Triangular minute stipules are clearly seen in the new leaves– thus can not be Casearia graveolens
---
---
---
.
---
For ID…………?Salvadora.
Seen on hills near Bhor Pune. A lot of Memecylon trees (Anjan) were seen nearby.
---
Probably some Tabernaemontana sp. (Apocynaceae family). I had seen this plant at Phansad WLS. Please confirm.
---
It is Casearia esculenta locally called Kirmira or Kulkulta.
---
---
Casearia ovata
(Lamk.) Willd syn.
Casearia esculenta
Roxb.
from Matheran
.
A small tree in the understorey of evergreen forest on the plateau.
Flowering in July and fruiting in September- October.
According to the Plant List this tree is now known as Guidonia ovata (Lam) Baill.
---
Thank you …, it is difficult to get good flower pictures during the heavy monsoon at that time.
---
Beautiful presentation.
---
Thanks, …, for the wonderful images.
---
Kindly examine and identify this Tree. 
Habit: A medium sized tree. 
Habitat: Wild, Evergreen forest 
Sighting: Near Sakaleshpur,Karnataka,about 1000 msl 
Date: 03-08-2018
---
Doubtful ID.
---
---
---
.
---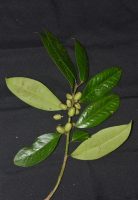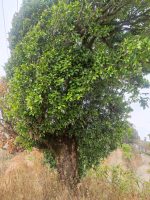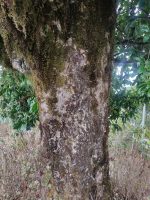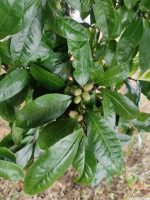 MS, April, 2023/01 Tree for id: 4 images.
Location : Hmuifang, Mizoram
Date : 04-04-2023
---
Casearia ??
---
Pl. post the keys.
Any keys?
---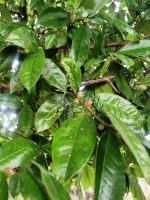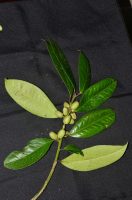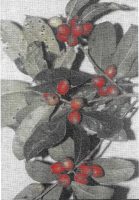 Fruit of this tree is red when ripe, not eaten
3 high res. images.
---
Casearia ??
---
The genus Casearia is not found in the Flora of Mizoram.
---