.
Ixora johnsonii Hook.f., Fl. Brit. India 3: 139 1880. ;
.
---
Small shrubs; stem little or not branched, glabrous. Leaves to 20 x 9 cm, elliptic-oblong, acute at both ends, green with ashy patches on either sides of midrib above; nerves 10-12 pairs, prominent, looping; petiole 8 mm long. Cymes 5-10 cm across, shortly peduncled or sessile. Flowers densely packed; shortly pedicelled; calyx tube 1.5 mm long, lobes 4.5 x 1 mm, oblong, mucronate; corolla tube slender, lobes 6 x 2.5 mm, ovate, acute; anthers 5 mm long, deeply lobed at base; style 4 cm long.
Flowering and fruiting: February-May
Southern Western Ghats (Kerala)
(Attributions- Dr. N Sasidharan (Dr. B P Pal Fellow), Kerala Forest Research Institute, Peechi as per
India Biodiversity Portal
)
Ixora johnsonii Hook.f. (RUBIACEAE)
Photo
from Edible Fruit Plants conservatory

, JNTBGRI, Trivandrum
---
.
---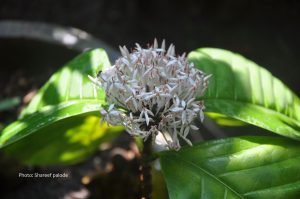 ---
.
References: POWO Catalogue of Life  The Plant List Ver.1.1  WCSP  IPNI  GBIF (High resolution specimens)  India Biodiversity Portal  Wikipedia