Cameroon to Ethiopia and S. Africa, Madagascar, Tropical & Subtropical Asia to N. Australia;

Andaman

Is., Angola,

Bangladesh

, Borneo, Burundi, Cameroon, China South-Central, China Southeast, Congo, Ethiopia, Hainan,

India

, Jawa, KwaZulu-Natal, Laos, Lesser Sunda Is., Madagascar, Malawi, Malaya, Mozambique,

Myanmar

, Namibia,

Nepal

, New Guinea, Northern Provinces, Northern Territory, Philippines, Queensland, Rwanda,

Sri Lanka,

Sudan, Sulawesi, Sumatera, Tanzania, Thailand, Tibet, Uganda, Vietnam,

West Himalaya,

Western Australia, Zambia, Zaïre, Zimbabwe
as per
POWO
;
---
Annuals; culms 40-70 cm high, rooting at lower nodes. Leaves 10-25 x 0.2-0.5 cm, linear, base rounded, glabrous; sheath keeled; ligule a membrane. Panicle 10-20 x 0.5 cm, narrow, cylindrical, interrupted at the base. Spikelets 1.5 x 1 mm; lower floret barren; upper bisexual; first lemma 1.5 x 1 mm, 5-nerved; palea linear; second lemma 1 x 0.5 mm, nerves faint; palea smaller; stamens 3; stigmas 2, 5 mm long.
Flowering and fruiting: August-December
Tropics of Asia and Australia
(Attributions- Dr. N Sasidharan (Dr. B P Pal Fellow), Kerala Forest Research Institute, Peechi as per
India Biodiversity Portal
)
.
Location: Khadka Gaun, Kathmandu,  Nepal
---
Sacciolepis myosuroides
---
Thank you …!
Sacciolepis myosuroides
(R.Br.) Chase ex E.G.Camus & A.Camus
---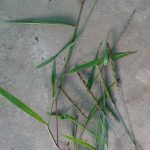 MS,Oct.,2021/60 Poaceae for id.
: Mixed thread. 1 correct image as above.
Place : Tamdil
I think there are two sp.
---
Poaceae(1) is Sacciolepis myosuroides
---