Psychotria monticola Kurz, J. Asiat. Soc. Bengal, Pt. 2, Nat. Hist. 41(2): 315 1872. (syn: Mapouria fulva (Buch.-Ham. ex Hook.f.) K.Schum.; Psychotria fulva Buch.-Ham. ex Hook.f.; Psychotria fulva var. brevibracteata M.Gangop. & Chakrab.; Psychotria fulva var. madraspatana (Hook.f.) Gamble; Psychotria fulva var. monticola (Kurz) Hook.f.; Psychotria madraspatana Hook.f.; Psychotria monticola var. minor Craib; Psychotria monticola var. pedicellata Craib; Uragoga fulva (Buch.-Ham. ex Hook.f.) Kuntze; Uragoga madraspatana (Hook.f.) Kuntze);
Andaman Is.; Assam; Bangladesh; East Himalaya; India;

 Malaya; Myanmar; Thailand; Vietnam
 as per 
Catalogue of Life
;
---
Undershrubs, up to 2 m tall. Leaves simple, opposite decussate; petioles ca. 1-2.5 cm long; lamina ca. 10-25 x 5-15 cm, broadly obovate, oblanceolate, cuneate at base, acute at apex, entire, chartaceous; secondary nerves 14-18 pairs, sub parallel. Flowers ca 0.3 cm across, white or greenish-white, in peduncled axillary or terminal cymes. Fruits ellipsoid, reddish brown; pyrenes with 4 sharp dorsal ridges.
India: Assam, Meghalaya, Manipur.
---
MS Nov,2018/09 Psychotria sp. ? for identification
 : 11 posts by 3 authors. Attachments 
(2)
Location : Lungkulh, Mizoram
Date : 15-11-2018
---
Thanks, … What are the species reported from your area?
Also check species available at
P.calocarpa, P.erratica, P.fulva, P.montana, P.silhetensis, P.symplocifolia & P.thomsonii are recorded in Mizoram
---
Psychotria calocarpa  ??
---
To me looks different from images of Psychotria calocarpa at
Sir it probably Psychotria nervosa
---
---
Psychotria monticola Kurz ??
---
Psychotria fulva
 Buch.-Ham. ex Hook.f. is a syn. of 
Psychotria monticola 
Kurz as per 
Catalogue of Life
.
Fruits
 also look similar.
---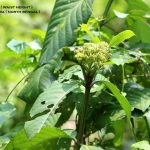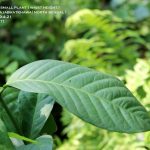 IDENTITY : 55:
Attaching a few images of a  small plant. Images were taken in North Bengal forest.
If my memory serves me correctly, I have seen this plant in Tezpur (Assam) in 2002. Fruits look like bunch of grapes (upright not hanging).
Please identify.
---
Appears to be some Rubiaceae member?
---
My guess, Sir, Rauvolfia verticillata, as in –
Looks like Rubiaceae. Please check Chassalia species..
---
Yes, Sir, it is more probably Chassalia.
But, "Bengal Plants" doesn't have any. As per Flora of British India (it is spelled as Chasalia), there are –
Psychotria montana (Chasalia montana) – Assam
Chasalia curviflora – Eastern Tropical Himalaya
It may be some 
Psychotria
 species as per comparative images herein.
---
Don't know Sir, "Bengal Plants" has only Psychotria adenophylla Wall., from Chittagong (KHASIA and CACHAR in Fl. Br. Ind.).
Fl. Br. Ind. also includes from the region (Assam, or Nepal or Sikkim or Khasia) –
P. erratica Hook. f.
P. fulva Ham.
P. symplocifolia Kurz.
P. calocarpa Kurz.
P. thomsoni Hook.f.
P. denticulata Wall.
P. silhetensis Hook. f.
P. montana Bl.
Thanks, …, for the id. I agree with you as per images at Psychotria monticola and as per GBIF specimens form our area– one, two and three.
---
Thanks, Sir ji, Psychotria was your idea, I wonder how plants propagate, breaking the borders mapped in British India!
---
---
.
References: Catalogue of Life  POWO  The Plant List Ver.1.1  WCSP  IPNI  GBIF– Specimen from India (High resolution specimens) Flora of peninsular India  India Biodiversity Portal  IBIS Flora (FBI)