Sabia paniculata Edgew. ex Hook. f. & Thomson, Fl. Ind. 1: 211 1855.;
.
Nepal to China (SW. Yunnan): Assam, Bangladesh, China South-Central, East Himalaya, Myanmar, Nepal, Thailand as per POWO;
.
China (SW-Yunnan), N-India (Kumaon, Darjeeling, Uttar Pradesh, Bihar, West Bengal, Arunachal Pradesh, Assam, Nagaland), Sikkim, Bangladesh, Nepal, Thailand, Myanmar [Burma] (Chin, Kachin, Kayin, Mandalay, Sagaing), Bhutan, Vietnam as per Catalogue of Life;
.
---
Evergreen scandent shrubs; twigs glabrous or pubescent. Leaves simple, alternate, spiral; petioles ca. 2.5 cm long; lamina ca. 5-22 x 1.5-10 cm, elliptic-oblong to lanceolate, acute to obtuse or rounded at base, acute at apex, entire, herbaceous, sparsely to laxly pubescent beneath; secondary nerves 5-12 pairs. Inflorescences in solitary or in thyrsus cymes, axillary, pubescent or glabrous, 15-30-flowered; pedicels ca. 13 mm long; Flowers greenish white; sepals ca. 1-1.5 x 0.5-1.5 mm, ovate or oblong-ovate; petals ca. 3-5.5 x 1.5-2 mm, oblong-ovate to oblong; stamens ca. 1.5-2 mm; filaments flattened; anthers globular to ellipsoid; disc crown shaped; pistil ca. 1.5-2 mm; ovary glabrous. Druplets distinctly obovoid to oblong-obovoid, compressed.
Flowering: January-April. Fruiting: March-August
In shady and swampy localities; meanly between 250-1400 m.
---
ID help needed for this climber from Assam
Location: 
Manas NP, Assam
---
Could you get it identified?
---
Still this species is unidentified. But my wild guess is Sabia species (Sabiaceae).
---
Did you check Sabia? Say S. paniculata?
---
It is not S. paniculata !
---
---
… is right. I got confused with campanulata!
---
---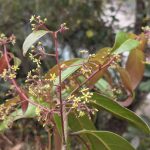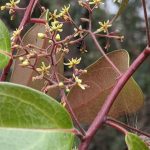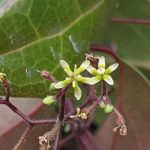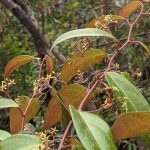 SK 2881 13 March 2021 : 4 images.
Location: Central Nepal
Altitude: 1100 m.
Date: March 20121
Habitat : Wild
Sabia paniculata. ??
Sent by a friend !
---
Please ignore 3rd image
---
Yes, appears close to images at Sabia paniculata
---
---
.
References: POWO  Catalogue of Life  The Plant List Ver.1.1  Tropicos  IPNI  GBIF – Specimen  Flora of China  FOC illustration  Annotated checklist of Flowering plants of Nepal  India Biodiversity Portal  Bhutan Biodiversity Portal