Daphne odora Thunb., Syst. Veg. ed. 14 372 1784. (syn: Daphne chinensis Spreng.; Daphne hybrida Lindl.; Daphne indica Loisel.; Daphne japonica Thunb.; Daphne japonica var. rosacea Makino; Daphne jejudoensis M. Kim; Daphne kiusiana var. odora (Thunb.) Makino; Daphne mazelii Carrière; Daphne odora C. P. Thunberg ex A. Murray; Daphne odora f. alba (Hemsl.) H. Hara; Daphne odora var. alba Hemsl.; Daphne odora f. leucantha (Makino) Y. J. Li; Daphne odora var. leucantha Makino; Daphne odora f. marginata Makino; Daphne odora var. mazeli (Carr.) Hemsl.; Daphne odora f. rosacea (Makino) H. Hara; Daphne odora var. variegata Bean; Daphne sinensis Lam.; Daphne speciosissima Carrière; Daphne triflora Lour.);
.
S. China to Vietnam, Taiwan: China South-Central, China Southeast, Taiwan, Vietnam; Introduced into: Korea as per POWO;
.
Japan (Hokkaido, Honshu, Shikoku, Kyushu), China (I), Korea (I) as per Catalogue of Life;
..
---
Daphne odora 'Aureomarginata'
Common name: Winter Daphne
Evergreen shrub, 
cultivar with yellow margined leaves
Clicked 
from San Mateo, California
, 14-6-2014.
---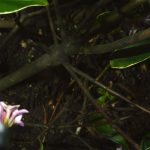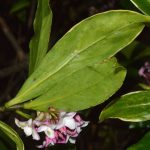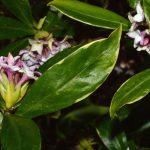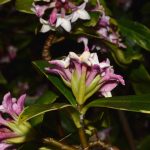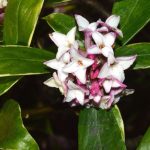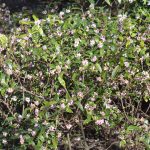 SK 3345 09 March 2022
: 6 very high res. images.
Location: Langton Garden, Romford, UK
Habit : Cultivated
Pics show gold edges…therefore this is Daphne odora aureomarginata.
The scent of all Daphne is just wonderful.
---