Musa sabuana K.Prasad, A.Joe, Bheem. & B.R.P.Rao, Indian J. Forest. 36: 151 (2013) (syn: Musa indandamanensis L.J.Singh);
.
Andaman Is., Nicobar Is. as per POWO;
.
---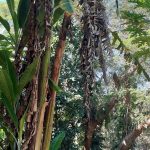 Kindly find enclosed herewith the images of new species recently described from Andaman and Nicobar Islands.
---
Musa indandamanensis L. J. Singh (Musaceae) Taiwania 2014, 59 (1): 26-36.
---
.
---
Musa sabuana or M. bulbisiana:
Recently received many remarks on the page Musa sabuana (as can be seen here), that it should be a syn. of M. bulbisiana based on https://doi.org/10.2478/s11756-020-00552-5
Should I consider it or ignore it ?
---
There is a long story behind this species. We have merged two of L.J. Singh's species M. indandamanensis under M. sabuana and M. paramjitiana under M. balbisiana var. andamanica. The details can be had from the attached paper of us. This prompted L.J. Singh to merge M. sabuana with M. balbisiana, both have no similarity at all. He has supported his argument based on molecular data. M. balbisiana fruits and M. sabuana are entirely different. You can see it in our paper. This is almost like merging Curcuma longa with Curcuma aeruginosa.
---
---
.
References: POWO  Catalogue of Life
Musaceae of Andaman and Nicobar Islands with two new synonyms and one distributional record–  V.S. Hareesh, A. Joe2, Joju P. Alappatt
and M. Sabu- Rheedea Vol. 27(2) 71–78 2017
MUSA SABUANA (MUSACEAE): A NEW SPECIES FROM ANDAMAN AND NICOBAR ISLANDS, INDIA– Kothareddy Prasad, Alfred Joe*, Madiga Bheemalingappa and Boyina Ravi Prasad Rao