Burmannia coelestis D.Don, Prodr. Fl. Nepal. 44 1825. (syn: Burmannia azurea Griff.; Burmannia bifurca Ham. ex Hook.f.; Burmannia borneensis Gand.; Burmannia candida var. caerulea Hook.f. ex F.N.Williams; Burmannia javanica Blume; Burmannia malaccensis Gand.; Burmannia selebica Becc.; Burmannia triflora Roxb.; Burmannia uniflora Rottler ex Spreng.; Burmannia urazii Masam.; Cryptonema malaccensis Turcz.; Nephrocoelium malaccensis (Turcz.) Turcz.);
.
Nepal to Caroline Islands: Andaman Is., Assam, Bangladesh, Borneo, Cambodia, Caroline Is., China Southeast, East Himalaya, Hainan, India, Jawa, Laos, Lesser Sunda Is., Malaya, Maluku, Myanmar, Nepal, New Guinea, Northern Territory, Philippines, Sulawesi, Sumatera, Thailand, Vietnam as per POWO;
.
Different from Burmannia pusilla (Miers) Thwaites as per Flowers of India;
.
Common name: Indian Bluethread • Marathi: नीलमणि Neelmani
.
---
Small herbs, stem much reduced. Leaves absent. Flowers regular, on long terminal peduncle, 1-3 together; calyx tube 3-winged, 1 cm long, retuse at apex, bright pink; petals absent; stamens 3, anthers sessile, ovate, erect; ovary inferior, 3-celled, winged, ovules many, style 3-lobed. Fruit a dehiscent winged capsule; seeds numerous, minute, reticulate.
Flowering and fruiting: October-December
Among grassy patches in moist deciduous forests
Indo-Malesia
(Attributions- Dr. N Sasidharan (Dr. B P Pal Fellow), Kerala Forest Research Institute, Peechi as per India Biodiversity Portal)
---
.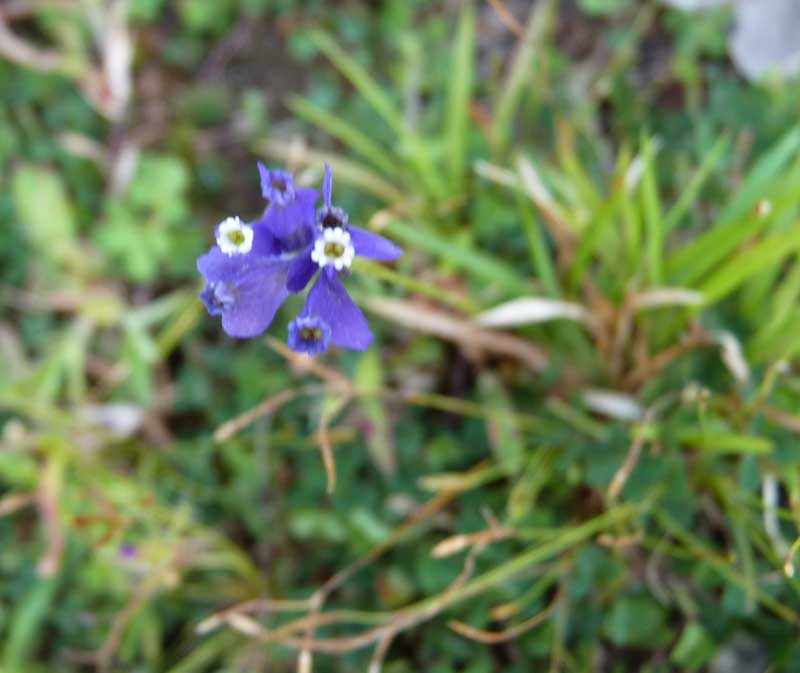 ---
References: POWO  Catalogue of Life  The Plant List Ver.1.1  WCSP   Flora of China  FOC illustration  Flora of peninsular India Flowers of India  India Biodiversity Portal  Kerala plants  Wikipedia